We are going to do it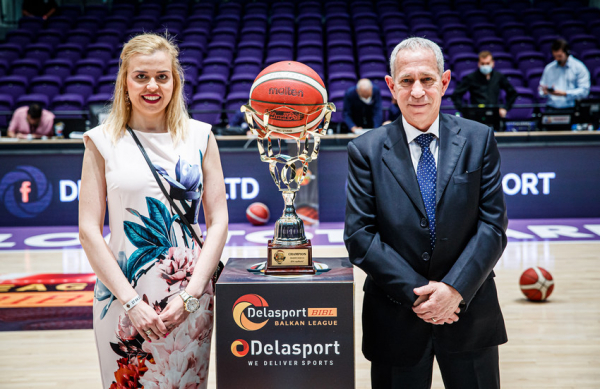 12-10-2021 | 10:17
We are going to do it.
After we did it last season, to play and cover 68 games from October 2020 to April 2021 and came over all the obstacles that stood ahead of us. We covered the entire original program without missing one game and finally one of the best ever Final Four in Holon, snf noe we are ready for season 2021-22.
We are ready with 11 very good basketball teams. We have good, experienced and young talent players. We havee good and experienced coaches and good organization and we are ready to start on Tuesday 12.10.2021 the 14 season of Balkan League.
We are going to have 80 games in season 2021-22. It will start on 12.10.2021 and will finish with one more great Final Four in the end of April 2022.
All of us in the league are ready for this big challenge. Our BIBL team is ready. The referees and Commissioners are ready and the teams are ready to start the season.
We will have games in 5 countries – Bulgaria. Kosovo. Israel. Montenegro and North Macedonia. Most of them will be televised live and all of them will be broadcast in Delasport BIBL YouTube channel.
I want to send a big THANK YOU to our main sponsor and brand name – DELASPORT - that believed in us and stood behind us from the first moment, giving us the possibility to run the new season in the best possible way. Thanks to Avi and Dany, to all the people from Delasport Bulgaria and Delasport Israel who have been working with us, helping us to be ready for the upcoming season.
I would like to thank to the 11 clubs that trust us. To the 5 basketball federations that trust our organization, supporting our target to provide in our region international basketball league, additionally to the very strong and interesting local leagues. All of the basketball fans will enjoy, during all the season, great and quality basketball games.
We are now ready for the opening games on 12.10.2021 in Kfar Blum - Israel and in Prishtina - Kosovo.
Delasport BIBL 14th season is going to be POSITIVE and HAPPY - no more NEGATIVITY in our life but only in COVID 19 test.
MAY THE BEST TEAM WIN!
News
Next Game
30 Nov 2021
19.00
Hapoel Nufar Energy Galil Elion
KK Navico Akademija FMP


Sports Hall
Referees:
Ognjen Jokic
Daut Mehmeti
Ioannis Agrafiotis

Schedule
Kfar Blum | Sports Hall

30 Nov 2021 19.00
Hapoel Nufar Energy Galil Elion
KK Navico Akademija FMP

Sofia | Universiada

01 Dec 2021 17.30
BC Levski 2014
BC Balkan
YouTube, BTVnovinite.bg

Nahariya | Ein Sara

01 Dec 2021 19.00
Ironi Rain Nahariya
LIVE
BC Akademik Plovdiv
Sport 5, YouTube

Rozaje | Sportski Centar

02 Dec 2021 17.00
KK Ibar Rozaje
KK TFT
YouTube

Haifa | Romema Arena

02 Dec 2021 19.40
Maccabi Next Urban Haifa
KK Navico Akademija FMP
Sport 5, YouTube

Sofia | Universiada

06 Dec 2021
BC Levski 2014
KK Navico Akademija FMP
All times are local time