Ante Nazor: This game is a big lesson for us (video)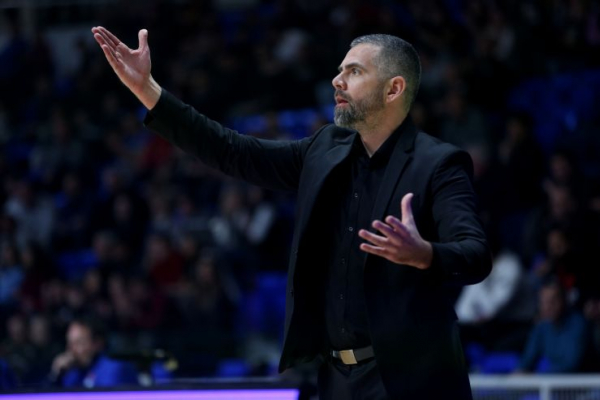 13-10-2021 | 11:43
KB Sigal Prishtina lost at home to Akademik Plovdiv in the first Group B game of Delasport Balkkan League season. Here is what the head coach of the Kosovo team -
Ante Nazor
had to say after the end of the contest:
"Early we looked like the team that we want - good defense, we put them in problems with turnovers and took the game in our hands. Then we started being very soft on defense, without aggression and they punished us. We showed two difference faces in the game which is a characteristic of a young team. We also had a shorter rotation but we must learn from this game and try to put the quality early minutes for the whole game. That is our target.Akademik came back because of our bad defense. My players must know that they need to play better defense. Without hard defense and rebounding there's no rebounding. Our target is to play like in the first 15 minutes and I won't give up on it. For sure we are missing a center. We tried to cover this disadvantage but they punished us. I congratulate them. I said to my players that this is a big lesson for us."


Lejson Zeqiri
was one of the top players for KB Sigal Prishtina in the game with Akademik Plovdiv. He finished with 21 points and 8 rebounds but unfortunately for him it wasn't enough for his team to get the win. Here is what Zeqiri had to say once the game was over:
"We started the game really well as we had good transition in the beginning and followed the game plan. After that in the second quarter we started letting down the pressure on defense which allowed Akademik to score some threes and some shots down low. In the third quarter I just think we started with no motivation.We got in a good rhythm near the end of the third quarter, we hit shots but on defense we were late on the rotations. It happens. This is our first game in that roster and we are a young team. I think that in the next games we are going to be much better."


News
Next Game
30 Nov 2021
19.00
Hapoel Nufar Energy Galil Elion
KK Navico Akademija FMP


Sports Hall
Referees:
Ognjen Jokic
Daut Mehmeti
Ioannis Agrafiotis

Schedule
Kfar Blum | Sports Hall

30 Nov 2021 19.00
Hapoel Nufar Energy Galil Elion
KK Navico Akademija FMP

Sofia | Universiada

01 Dec 2021 17.30
BC Levski 2014
BC Balkan
YouTube, BTVnovinite.bg

Nahariya | Ein Sara

01 Dec 2021 19.00
Ironi Rain Nahariya
LIVE
BC Akademik Plovdiv
Sport 5, YouTube

Rozaje | Sportski Centar

02 Dec 2021 17.00
KK Ibar Rozaje
KK TFT
YouTube

Haifa | Romema Arena

02 Dec 2021 19.40
Maccabi Next Urban Haifa
KK Navico Akademija FMP
Sport 5, YouTube

Sofia | Universiada

06 Dec 2021
BC Levski 2014
KK Navico Akademija FMP
All times are local time