Yordan Yankov: This win is important for our confidence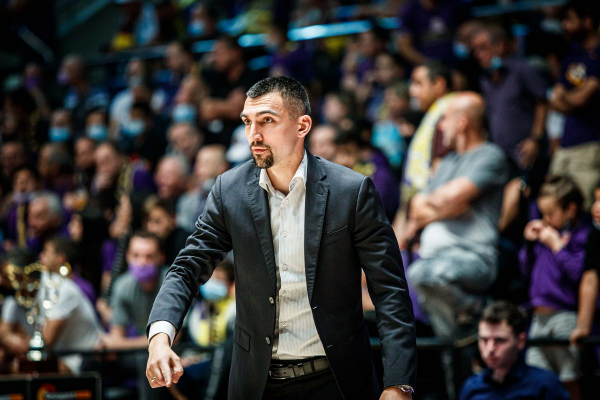 13-10-2021 | 11:49
BC Akademik Plovdiv defeated KB Sigal Prishtina in the first game of the new season. The runner up from last season overacame a bad start to come away with the win. Here is what the head coach
Yordan Yankov
had to say following the win:
"First I want to congratulate the team of Sigal Prishtina as they played a good game. I know they have some injuries and they are waiting for other players, so it was a really good performance from their side. They played very well, especially early.It was a very difficult game for us. It's our first win as a team so it was very important for our confidence and to have everybody start believing in the system. I would like to thank my players who performed hard, they left their hearts on the floor and played with much effort.From the start it was tough and we had a hard time adjusting to their style of play. It was very difficult for us but I'm really glad that we did it and in the second half we were much better."


Tomislav Minkov
had a great game for Akademik Plovdiv in the win against Sigal Prishtina. He finished with 26 points in his best performance as a professional. Here is what he had to say after the victory:
"It was tough game especially in the first half when we allowed too many triples and we were not focused on defense. I'm proud that we figured things out in the second half and I'm happy for my teammates that we won.We had the height advantage and that was the reason why we had so many open three-point shots."


News
Next Game
30 Nov 2021
19.00
Hapoel Nufar Energy Galil Elion
KK Navico Akademija FMP


Sports Hall
Referees:
Ognjen Jokic
Daut Mehmeti
Ioannis Agrafiotis

Schedule
Kfar Blum | Sports Hall

30 Nov 2021 19.00
Hapoel Nufar Energy Galil Elion
KK Navico Akademija FMP

Sofia | Universiada

01 Dec 2021 17.30
BC Levski 2014
BC Balkan
YouTube, BTVnovinite.bg

Nahariya | Ein Sara

01 Dec 2021 19.00
Ironi Rain Nahariya
LIVE
BC Akademik Plovdiv
Sport 5, YouTube

Rozaje | Sportski Centar

02 Dec 2021 17.00
KK Ibar Rozaje
KK TFT
YouTube

Haifa | Romema Arena

02 Dec 2021 19.40
Maccabi Next Urban Haifa
KK Navico Akademija FMP
Sport 5, YouTube

Sofia | Universiada

06 Dec 2021
BC Levski 2014
KK Navico Akademija FMP
All times are local time