Eftim Bogoev signs with KK Feni Industries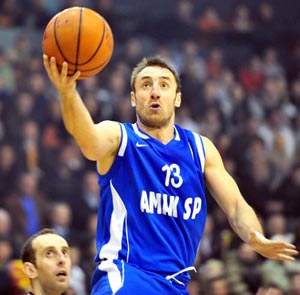 Eftim Bogoev
20-11-2009 | 17:09
According to reports from Macedonian media,
Feni Industries
reinforced its
roster on point guard position, as Ognen Stojanovski will be out for indefinitely time due to leg injury. Reportedly, for the past few days Eftim Bogoev has been working out with the squad. He started this season with Bosnian team
Sutjeska Foca
but it seems that things there did not work out. At the end, the team from Kavadarci secured a deal with the player. Given the player`s experience both domestic and from abroad, he could be a valuable piece for
Feni Industries
. The news is still not
confirmed by the club, but according to Macedonian Sport it is just matter of time.
Eftim Bogoev started his career in 1997 with
Nemetali Ograzden
. In 5 seasons with the club, he helped it move from 2nd to 1st Macedonian League. In 2002, he moved to
Mac 91 Polo Trade Strumica
with whom he made it to the Playoff Finals in 2003. Two seasons later, Bogoev moved aborad after signing with Greek outfit
KAO Dramas
. He also played for
Rethimno
during season 2005-2006 where in 25 games he averaged 4.5 points per game. In 2006, he returned to Macedonia and signed with
Strumica
. With
Strumica
he won the National Title in 2007 and made it to he Cup final.
Last season Bogoev moved to
AMAK SP
, with whom he has won the National Cup. He was also good in
EuroCup
, where he appeared in 4 games and posted averages of 12.5 points and 4.8 assists per game.
News
Next Game
No Games Scheduled