KK Feni will be looking to get back to winning against KK Ulcinj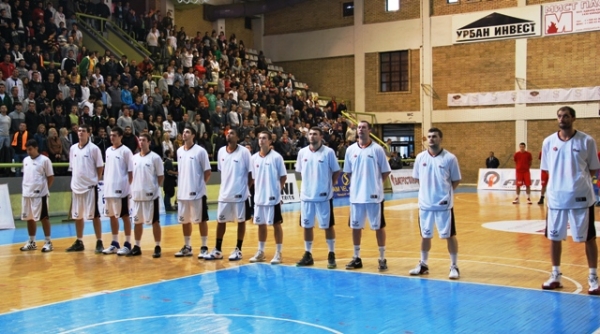 KK Feni (photo: basketball.org.mk)
18-01-2012 | 01:20 | Alexander Sotirov
The defending EUROHOLD Balkan League champion - KK Feni Industries will be looking to get back to winning in their home game against KK Ulcinj in Jasmin Hall in Kavadarci. The 2011 BIBL champions suffered a loss in their last game in the League, as they fell short away from home against Levski. Ulcinj also lost their last game - to KK Napredak Rubin.
The first game between KK Feni Industries and KK Ulcinj in this year′s edition of the EUROHOLD Balkan League was a close one. KK Feni got the win - 53:59 in JU Gimnazija in Ulcinj, but the game wasn′t easy. Sasa Ocokoljic led Feni with 15 points, while Milan Latkovic had 11 for Ulcinj.
Ivan Lilov quickly became Feni′s leading scorer, after joining the team and for two games he averages 17.5 points per contest. Jarrid Frye is the only other players, who is scoring in double digits on a regular basis - 12.8 points per game. Kiril Nikolovski is leading the team in rebounding - 5.8 boards per game, while Sasa Ocokoljic is the top pаsser with 2.8 assists average.
Sinisa Tepavcevic scored 14 points in his only appearance for Ulcinj so far, but he is expected to be a priority man on offense. Boban Medenica adds 11.8 points and a team-high 7.0 rebounds, while Marko Milatovic has 10.3 points per game. Milan Latkovic is the best pаsser with 2.0 assists average.
KK Feni Industries are currently third in Group B with a balance of 3-2 and a win against Ulcinj will most probably seal their spot in the next phase. Ulcinj on the other side have only one win and four losses and are fifth in the group.
Tip-off is set for 17.45 in Jasmin Hall in Kavadarci, as the game will be broadcasted live on Sportmedia TV. The game officials will be Vladimir Tsekov and Iskren Manolov from Bulgaria and Zoran Zlatevski from Macedonia.
News
Next Game
06 Dec 2021
19.00LIVE
Kujtesa, YouTube
KB Sigal Prishtina
KK TFT


Pallati i Rinise dhe Sporteve
Referees:
Ognjen Jokic
Haris Bijedic
Ivan Lakicevic
Commissioner:
Faton Kurshumlija
Schedule
Prishtina | Pallati i Rinise dhe Sporteve

06 Dec 2021 19.00
KB Sigal Prishtina
LIVE
KK TFT
Kujtesa, YouTube

Stara Zagora | Obshtinska

07 Dec 2021 19.00
BC Beroe
LIVE
KK Ibar Rozaje
YouTube

Botevgrad | Arena Botevgrad

08 Dec 2021 18.00
BC Balkan
LIVE
KK Navico Akademija FMP
YouTube

Plovdiv | Complex Sila

09 Dec 2021 18.00
BC Akademik Plovdiv
LIVE
KK Ibar Rozaje
YouTube

Stara Zagora | Obshtinska

13 Dec 2021
BC Beroe
LIVE
Ironi Rain Nahariya

Skopjie | Nezavisna Makedonija

14 Dec 2021
KK Navico Akademija FMP
LIVE
BC Levski 2014
All times are local time