Napredak Rubin surpised Feni in Krusevac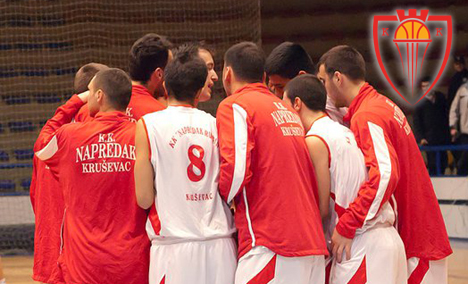 Napredak celebrated a win
25-01-2012 | 21:01 | Alexander Sotirov
KK Napredak Rubin Krusevac showed that they are in the EUROHOLD Balkan League for a reason, as they deservedly defeated the current BIBL champion - KK Feni Industries 81:77 after a very interesting game of basketball in Hala Sportova in Krusevac. The defending EUROHOLD Balkan League champion - KK Feni Industries started the game strong, after they scored the first five points - a three by Ivan Lilov and a basket by Vladimir Brchkov for 0:5 after a 1.40 have been played. Napredak′s first three baskets were all from three-point range, as they led 9:7 with 6.11 to go. Halfway through the first period the held a 13:10 lead. Feni managed to cut the deficit to one point - 15:14, but Sasa Mihajlovic completed a three-point play for 18:14. Goran Samardziev made a three - 18:17 with 1.09 to go. After 10 minutes of play the score was 22:17 in favor of KK Napredak Rubin
Kiril Nikolovski scored a basket after an assist by Goran Samardziev, and after that Samardziev made two free-throws, to decrease the difference to 22:21, which forced Napredak to take a timeout. Zlatko Gocevski tied the score at 22:22, increasing Feni′s run to 5-0. Goran Samardziev was having a good time on the court, as he scored another three, giving his team a 24:27 lead with 6.50 left in the quarter. In the next one minute and forty seconds the home team made a 7-2 run, leading 31:29 with five minutes left. There were a couple of lead changes in the following minutes as it was Feni who managed to break away - 41:43 with 1.13 to go after a basket by Frye. At halftime the score was 41:43, after Feni played a good second period, which they won 19:26.
Napredak scored seven points in the first minute and a half of the second half, against two for Feni, and led the game 48:45 with 8.22 left in the quarter. The home team extended their lead to 53:47, which forced Emil Rajkovic to take a timeout. Feni went on a 7-1 run, as they tied the score at 54:54 with 4.29 left. Aco Mandic gave his team a 59:56 lead with three minutes to go, as he mad a three-pointer. Slaven Cupkovic made the only basket for Napredak until the end of the quarter, while Feni scored seven points, and after thirty minutes they still had a 2-point lead - 61:63.
Feni kept their lead in the opening minutes of the fourth quarter, as they led by four - 66:70 after Vladimir Brchkov finished a fast break with an attractive dunk, 6.19 before the end. Napredak managed to erase two points from the difference and the score was 70:72 with less than five minutes to go. Each side scored a basket for 72:74, but Napredak would go on a 7-3 run, leading the game 79:77 with 50 seconds remaining, after Slaven Cupkovic made one free-throw. Feni took a timeout with 30 seconds to go and after that Zlatko Gocevski missed a three-point shot, so the visiting team had to foul and Marko Puzic made two free-throws with 4 seconds to go - 81:77 Napredak, as that happened to be the final score. Slaven Cupkovic led the winning side with 21 points. Marko Radonjic added 12 and Vladimir Radmanovac had 11 in the win. Marko Puzic added 8 points, 6 rebounds and 3 assists. Once again Ivan Lilov was the top performer for Feni, as he finished with 24 points, along with 2 rebounds and 2 assists. Lilov was the only player who scored in double digits, as four other players had 8 points each - Jarrid Frye, Vladimir Brchkov, Kiril Nikolovski and Goran Samardziev. This was Feni′s third loss in Group B of the 2011/2012 BIBL, as they currently stand on the third spot in the standings. Napredak improved their balance to 3 wins and 4 losses, as they are fourth. In their next game Napredak Rubin are hosting HKK Zrinjski Mostar on the 8th of February, while KK Feni Industries will travel to Israel to face Hapoel Tel Aviv on the 7th of February.
News
Next Game
06 Dec 2021
19.00LIVE
Kujtesa, YouTube
KB Sigal Prishtina
KK TFT


Pallati i Rinise dhe Sporteve
Referees:
Ognjen Jokic
Haris Bijedic
Ivan Lakicevic
Commissioner:
Faton Kurshumlija
Schedule
Prishtina | Pallati i Rinise dhe Sporteve

06 Dec 2021 19.00
KB Sigal Prishtina
LIVE
KK TFT
Kujtesa, YouTube

Stara Zagora | Obshtinska

07 Dec 2021 19.00
BC Beroe
LIVE
KK Ibar Rozaje
YouTube

Botevgrad | Arena Botevgrad

08 Dec 2021 18.00
BC Balkan
LIVE
KK Navico Akademija FMP
YouTube

Plovdiv | Complex Sila

09 Dec 2021 18.00
BC Akademik Plovdiv
LIVE
KK Ibar Rozaje
YouTube

Stara Zagora | Obshtinska

13 Dec 2021
BC Beroe
LIVE
Ironi Rain Nahariya

Skopjie | Nezavisna Makedonija

14 Dec 2021
KK Navico Akademija FMP
LIVE
BC Levski 2014
All times are local time