Levski reached the Final Four after an easy win in Krusevac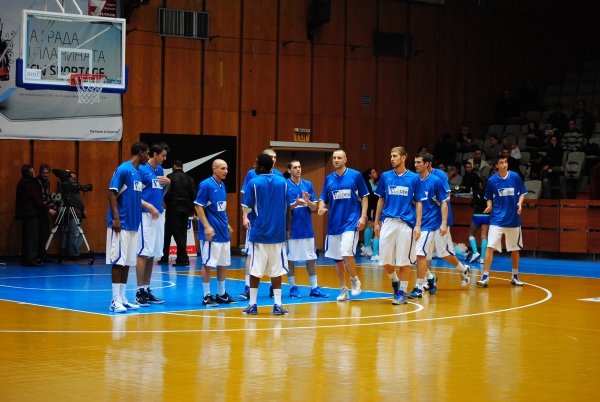 23-02-2012 | 20:43 | Alexander Sotirov
BC Levski Sofia reached the Final Four in the EUROHOLD Balkan League for the third straight season, after an easy win in Krusevac against local side KK Napredak Rubin. The 2010 BIBL champions won by 25 points of difference - 67:92.
Neither team could break ahead of the other in the opening minutes of tonight′s game, as in the firs three minutes both sides were tied a total of three times. However it was Levski who got a slight advantage, as they led 6:11 with 5.58 remaining in the first. Jovan Djordjevic scored for 8:11, but Dimitar Angelov and Aaron Harper combined for the next five points, giving Levski an 8:16 lead with 4.28 to go. Napredak responded with five straight points by Petar Beader and Sasa Mihajlovic, decreasing the difference to just 3 - 13:16. After ten minutes of play the score was 15:20.
Levski started the second quarter with seven unanswered points, increasing their lead to double digits - 15:27. Napredak scored four points, and Hrisimir Dimitrov also had 4 for Levski, as the score was 19:31 halfway through the second quarter. Levski remained ahead with a comfortable lead, as they were up by 13 - 23:36 with 3.21 to go, after Hrisi Dimitrov made two free-throws. Levski didn′t let anything interesting happen, as they were in total control and led by 14 at halftime - 28:42.
After the start of the second half Napredak managed to decrease the difference to "just" 13 - 33:46, before Aaron Harper scored a three for 33:49 with less than six minutes to go. Levski scored 7 points in the following moments, against only 1 for Napredak and led the game 34:56 with 3.27 left in the quarter. The visitors increased their lead to 25 points - 36:61, and after 30 minutes they were still ahead - 44:66, as Kendrick Jones scored a last-second three-point shot for Napredak.
Nothing changed after the start of the last period, as Levski were still in control, leading the game by 21 - 53:74 with 5.51 remaining, when Titi Papazov decided to call a time-out. Levski remained in control for the rest of the quarter, as the only question was how much was the difference going to be in the final score. After 40 minutes of play the score wsa 67:92 and Levski achieved their eighth straight win in Group B.
Aaron Harper scored 21 points for Levski in just 23 minutes of play. Dimitar Angelov added 17 points along with 8 rebounds, while Hrisimir Dimitrov finished with 15 points and 5 boards. Yordan Bozov added 10 points. Denis Agre finally saw more playing time and scored 6 points in the win.
Once again Aco Mandic was the top performer for Napredak Rubin, finishing with 22 points off the bench. Kendrick John Jones added 16 points, 6 rebounds and 5 assists, as no other Napredak player managed to score in double digits.
Levski remained on top of Group B with 8-0, as they have already secured a spot in the Final Four, while Napredak moved up to the third spot with 4-5, but they have played one game more than KK Feni who are fourth with 4-4.
News
Next Game
06 Dec 2021
19.00LIVE
Kujtesa, YouTube
KB Sigal Prishtina
KK TFT


Pallati i Rinise dhe Sporteve
Referees:
Ognjen Jokic
Haris Bijedic
Ivan Lakicevic
Commissioner:
Faton Kurshumlija
Schedule
Prishtina | Pallati i Rinise dhe Sporteve

06 Dec 2021 19.00
KB Sigal Prishtina
LIVE
KK TFT
Kujtesa, YouTube

Stara Zagora | Obshtinska

07 Dec 2021 19.00
BC Beroe
LIVE
KK Ibar Rozaje
YouTube

Botevgrad | Arena Botevgrad

08 Dec 2021 18.00
BC Balkan
LIVE
KK Navico Akademija FMP
YouTube

Plovdiv | Complex Sila

09 Dec 2021 18.00
BC Akademik Plovdiv
LIVE
KK Ibar Rozaje
YouTube

Stara Zagora | Obshtinska

13 Dec 2021
BC Beroe
LIVE
Ironi Rain Nahariya

Skopjie | Nezavisna Makedonija

14 Dec 2021
KK Navico Akademija FMP
LIVE
BC Levski 2014
All times are local time