KK Feni Industries makes history, will appear in fourth straight Final 4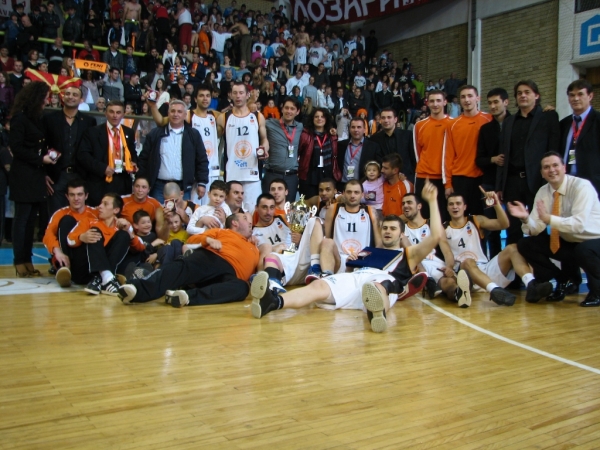 Feni with the trophy in 2011
03-04-2012 | 21:33 | Alexander Sotirov
The 2011 EUROHOLD Balkan League champion KK Feni Industries makes history, as the Macedonian champions will make their fourth straight Final 4 appearance. Feni are the only team in the history of the BIBL, to make it to the last stage of the season in all of their participations in the competition.
Feni′s debut was in the first season of the League, when they lost the semifinal to Rabotnicki and the game for 3rd place to Mega Hypo Leasing in 2008/2009.
In 2009/2010 they once again made it to the Final 4, but in the semifinals they were stopped by the young team of Lovcen Cetinje.
Last season (2010/2011) Feni hosted the Final 4 in Jasmin Hall in Kavadarci and after winning against KK Mornar (82:75) in the semifinal and against Rilski Sportist (88:75) in the final game they lifted the BIBL championship trophy, as Darko Sokolov was voted Pepsi MVP of the Final 4.
In Gan Ner later on in the month of April, Emil Rajkovic′s side will appear in their fourth straight Final 4. Besides coach Rajkovic, the only players, that have been in the squad during the last four seasons and respectively F4 appearances are the captain Goran Samardziev, Slobodan Mihajlovski and Marjan Gjurov.
News
Next Game
No Games Scheduled