Galil Gilboa is the new champion after an OT drama against Levski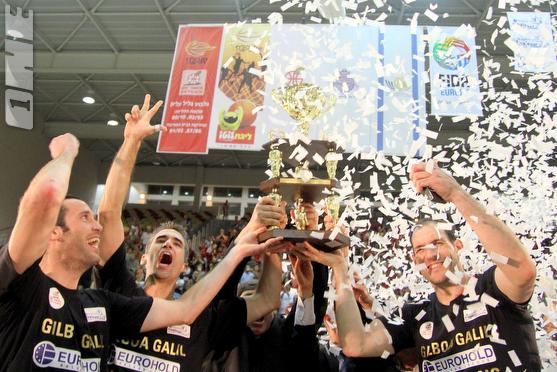 Galil Gilboa (one,co.il)
23-04-2012 | 23:18 | Alexander Sotirov
Israeli side Galil Gilboa are the new EUROHOLD Balkan League champions. Lior Lubin′s boys lifted the championshiup trophy after a great final game against Levski, which they won 89:84 after overtime. In regulation the game finished 75:75.
The game started with a bit of tension in both teams, as neither side could break ahead of the opposition in the opening minutes. The score was tied four times in the opening five and a half minutes, before Galil Gilboa finally went on a four-to-nothing run and led the score 11:15 after Dagan Yivzori made a three-point shot with 4.36 remaining. Levski didn′t allow thei opposition to get a bigger lead, as they quickly tied the score at 15:15 and after that at 17:17. After one quarter of basketball in Gan Ner the score was 21:17, as Levski scored four unanswered points in the end.
Levski manage to keep their momentum going in the second period as well and after a strong start they extended their lead to eight points - 31:23 after a three-pointer by Jarrett Howell. The Blues remained in control despite the tries of Galil Gilboa and were leading the score 37:32 with 2.32 to go. However Dimitar Angelov was called a technical foul which gave Gilboa a chance to decrease their deficit. That′s exactly what they did as they managed to cut the difference down to just a single point - 39:38 with 25 seconds left before halftime. Halfway through the game the score wasw 41:38 for Levski.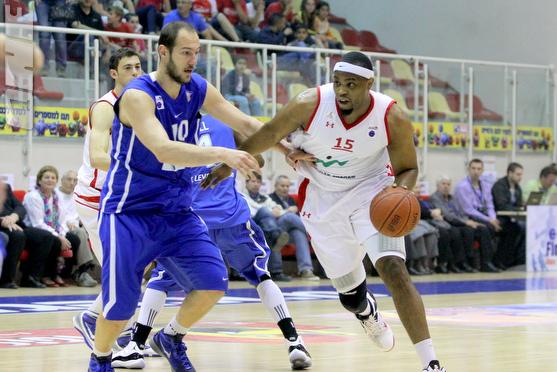 The 2010 BIBL champions started the second half in a great way, scoring 10 points against just 2 for Galil in the opening 2.50, as Marcus Hall converted an and-one play for Levski′s first double-digit lead of the night - 51:42.Halfway through the third period Levski were up by 12 - 57:45. The Bulgarian side remained ahead by a solid margin after 30 minutes have been played - 64:53 for Levski, after Hrisi Dimitrov tipped the ball in the basket in the last seconds of the third.
Galil started the fourth quarter strong and quickly erased the deficit to just five points - 68:63 with 5.18 to go, after going on an 10-4 run. Galil were having strong moments, as they didn′t allow Levski to break ahead. Courtney Fells tried to block one shot by Marcus Hall and both of them were taken off the field after falling on the floor, but fortunately nothing was serious. Gilboa managed to reduce the difference to just four - 72:68 with 2.00 left. Jarrett Howell responded with a three - 75:68, before Tishman made two FT attempts for 75:70. Romeo Travis was fouled twice in a row and got the rebound inbetween, as he made three out of four free-throws - 75:73 (35 seconds before the end).
Marcus Hall′s shot was blocked by Joseph Jones and Courtney Fells was at the line with 3 seconds to go - he made both free-throws 3 seconds before the end, tying the score at 75:75. Aaron Harper missed a last-second shot and the game went into overtime.
Both sides exchanged baskets in the start of the OT, as the game at 82:82 with 2.39 to go. Romeo Travis converted the basket and the foul (82:85), but Vassil Evtimov kept Levski alive (84:85). Joseph Jones made two FT - 84:87 with 53 seconds to go. Courtney Fells scored for 84:89 and Galil Gilboa were the winners - 84:89 after OT.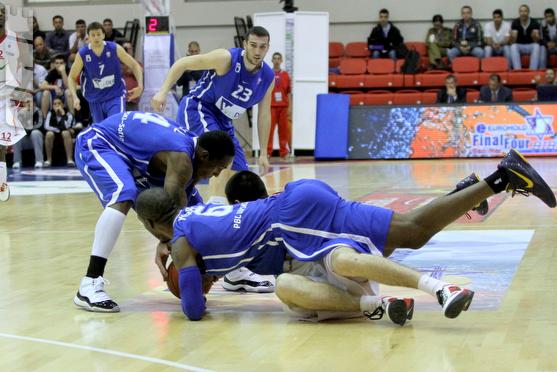 Joseph Jones led Galil Gilboa with 22 points and 12 rebounds and an efficiency rating of 35. Romeo Travis also had 22 points, along with 9 rebounds, while Courtney Fells and Dagan Yivzori scored 14 points each.
Marcus Hall scored 20 points and added 6 rebounds for Levski, while Aaron Harper added 18 points, 5 rebounds and 4 assists.
News
Next Game
21 Mar 2023
CANC
BC Budivelnyk Kyiv
KB Peja
Schedule
Sofia | Triaditsa Hall

21 Mar 2023 CANC
BC Budivelnyk Kyiv
KB Peja

Sofia | Triaditsa Hall

23 Mar 2023 CANC
BC Budivelnyk Kyiv
BC Beroe

Beer Sheva | Noam Khayim Sport Complex

28 Mar 2023
Hapoel Altshuler Shaham Beer Sheva/Dimona
KB Bashkimi

Beer Sheva | Noam Khayim Sport Complex

28 Mar 2023
Hapoel Altshuler Shaham Beer Sheva/Dimona
KB Bashkimi

Veroli | Pala Coccia

28 Mar 2023 CANC
BC Budivelnyk Kyiv
BC Levski 2014

Veroli | Pala Coccia

30 Mar 2023 CANC
BC Budivelnyk Kyiv
Hapoel Altshuler Shaham Beer Sheva/Dimona
All times are local time