FIBA Europe Board confirms the BIBL recognition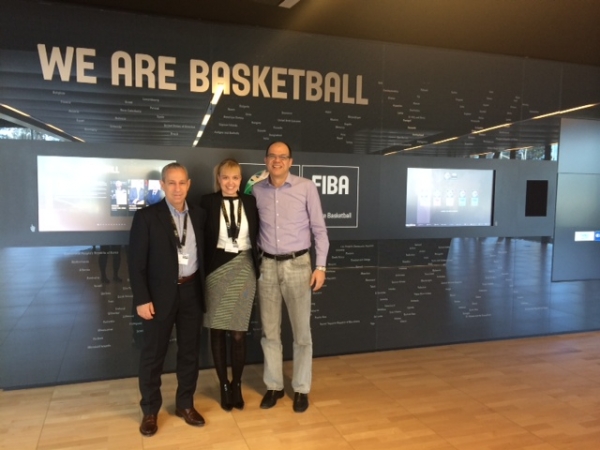 Shay Shtriks and Lubomira Shtriks with Kosta Iliev
09-03-2015 | 08:41
Yesterday at the 4th regular meeting of the FIBA Europe Board, the BIBL recognition was officially confirmed. This was announced in the official press-release on FIBA Europe web-site following the meeting itself.
Earlier during the season BIBL was asked to provide both FIBA and FIBA Europe with some information on several important points around the organisation and way of running the League in accordance with FIBA Europe bye-laws and the FIBA general statuses and internal regulations since its foundation in 2008. The League fulfilled their request and provided everything it was asked for.
The past Thursday and Friday, the Sports Director Shay Shtriks and the Marketing Manager and International Relations Director Lubomira Shtriks visited the House of Basketball in Mies, Switzerland. They had a working meeting with Mr. Zoran Radovic - Sport Development Director of FIBA and Mr. Kosta Iliev - Sport Development Department of FIBA. Some of the topics touched were the following season, the composition of the BIBL, continuation of the cooperation with the national member-federations, our targets and goals in developing the competition and the ways of improving the cooperation with FIBA Europe and FIBA in the area of regulations, communications, technical elements, etc.
Mr. Shtriks met also with Mr. Carl Jungebrand - Head of Refereeing of FIBA and discussed not only the level and organisation of the officiating during the current season but also different ways how to work on and improve the whole refereeing system of the League in closer cooperation and collaboration with the refereeing department of FIBA and personally Mr. Jugenbrand.
The Management of the Balkan League would like to hereby thank the whole FIBA Sport & Development Department, FIBA Europe Board and all the Balkan member-Federations for the trust, support and recognition paid to our competition.
News
Next Game
30 Nov 2022

KK Milenijum Kodio
KB Peja


Bemax Arena
Referees:
Ognjen Jokic
Aleksandar Pavlov
Xhelal Mumini
Commissioner:
Zoran Sutulovic
Schedule
Podgorica | Bemax Arena

30 Nov 2022
KK Milenijum Kodio
KB Peja

Beer Sheva | Noam Khayim Sport Complex

01 Dec 2022
Hapoel Altshuler Shaham Beer Sheva/Dimona
BC Beroe

Stara Zagora | Obshtinska

07 Dec 2022
BC Beroe
BC Budivelnyk Kyiv

Stara Zagora | Obshtinska

13 Dec 2022
BC Beroe
KB Bashkimi

Sofia | Universiada

15 Dec 2022
BC Levski 2014
KB Bashkimi

Peje | Karagaci

20 Dec 2022
KB Peja
KK Milenijum Kodio
All times are local time