Quotes after the game KB Sigal Prishtina - SCM U Craiova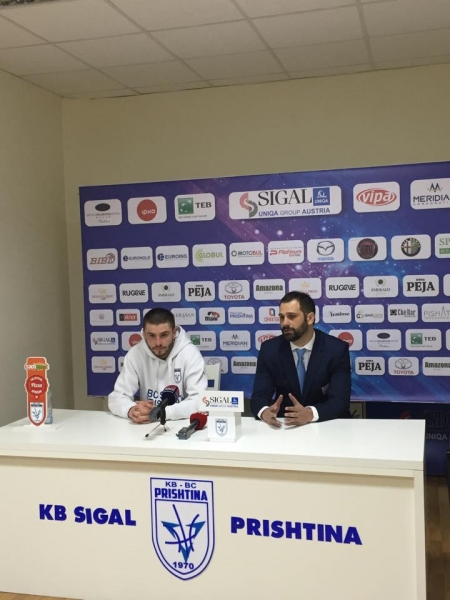 26-03-2015 | 11:11
KB Sigal Prishtina is through to the semifinal of EUROHOLD Balkan League after a big home win over SCM U Craiova. Here are some quotes after the end of the game
:
Marjan Ilievski, head coach of KB Sigal Prishtina
: "This time we stepped in the court with very big concentration and proves that we wanted to win. We played our game and this is very important, the result doesn′t matter. I can freely say that for 38 minutes we played the way we know to play and I would like to thank my players but also the fans for amazing atmophere. It was the first time in the season that I had all of the players available due to many injuries untill now. Regarding Kozuv - that is like a final before the final because both of the teams have performed at high level this season and it will be very tough game."

Dardan Berisha, player of KB Sigal Prishtina
: "We did not think that we will win with this big result. It was a perfect game from all of the players. I would like to thank our fans, Plisat, who did not stop for a second and kept on supporting us. Without them we would not have reached our goals. It will be tough against Kozuv as both of us are complete teams, but with this form like tonight, I believe we are favorites to win the BIBL!"
Andjelko Mandic, head coach of SCM U Craiova
: "It was a very hard game and we did many mistakes and Prishtina deserved to win. I wish them good luck in semi finals. I would also like to emphasise the wonderful atmosphere created by fans. It was amazing!"
News
Next Game
06 Dec 2021
19.00LIVE
Kujtesa, YouTube
KB Sigal Prishtina
KK TFT


Pallati i Rinise dhe Sporteve
Referees:
Ognjen Jokic
Haris Bijedic
Ivan Lakicevic
Commissioner:
Faton Kurshumlija
Schedule
Prishtina | Pallati i Rinise dhe Sporteve

06 Dec 2021 19.00
KB Sigal Prishtina
LIVE
KK TFT
Kujtesa, YouTube

Stara Zagora | Obshtinska

07 Dec 2021 19.00
BC Beroe
LIVE
KK Ibar Rozaje
YouTube

Botevgrad | Arena Botevgrad

08 Dec 2021 18.00
BC Balkan
LIVE
KK Navico Akademija FMP
YouTube

Plovdiv | Complex Sila

09 Dec 2021 18.00
BC Akademik Plovdiv
LIVE
KK Ibar Rozaje
YouTube

Stara Zagora | Obshtinska

13 Dec 2021
BC Beroe
LIVE
Ironi Rain Nahariya

Skopjie | Nezavisna Makedonija

14 Dec 2021
KK Navico Akademija FMP
LIVE
BC Levski 2014
All times are local time