SK Tirana celebrated its debut with a home victory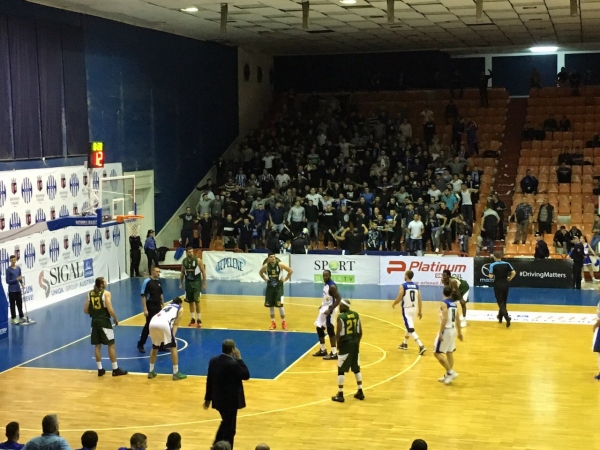 10-10-2016 | 22:05
The Opening game of SIGAL-UNIQA Balkan League season 2016/2017 went to SK Tirana. At home the team debuted in the competition beating a fellow newcomer KB Trepca 78-66. Both teams offered a good game and went hard to take the victory in their first ever match in the competition. However the hosts did a bit better when it mattered and their fans celebrated a deserved victory. Next week Trepca will host Karpos Sokoli while Tirana will visit Feni Industries.
The hosts started a bit better and had the early lead. Trepca however stayed close until the end of the first quarter and in the first minutes of the second went in front. Then however Tirana responded with 13-0 run to take a 10-point advantage which also didn′t last long. Trepca manged to close the gap to only 2 points in the last minute of the first half before the hosts scored to be up by 4 after it finished.
Shortly after the third period started Tirana made a 9-0 run to increased the lead to 11 in the middle of it. In the next minutes the team kept its advantage but Trepca didn′t give up. Still after the quarter ended the hosts led by 7 and stayed up in the fourth as well. With two minutes to go the visitors cut the deficit to 4 points but the hosts responded. The scored the next 8 points and celebrated their first win.
Endrit Hysenagolli was the top performer for the home side with his 25 points and 9 rebounds. Manuel Johnson also played well with his 21 points as Griffin Ramme added 11 points, 8 rebounds and 4 assists.
Frederic Stutz had 14 points for the visiting side while Jeremy Wise added 12 and 7 assists.
---
FULL STATS FROM SK TIRANA - KB TREPCA GAME
News
Next Game
26 Oct 2021
19.00LIVE
YouTube
KK Navico Akademija FMP
Hapoel Nufar Energy Galil Elion


Nezavisna Makedonija
Referees:
Ognjen Jokic
Haris Bijedic
Ivan Mijalkovski
Commissioner:
Aleksandar Milojevic
Schedule
Skopjie | Nezavisna Makedonija

26 Oct 2021 19.00
KK Navico Akademija FMP
LIVE
Hapoel Nufar Energy Galil Elion
YouTube

Rozaje | Sportski Centar

27 Oct 2021 17.00
KK Ibar Rozaje
LIVE
BC Beroe
YouTube

Skopje | SC Kale

27 Oct 2021 19.00
KK TFT
LIVE
BC Akademik Plovdiv
YouTube

Kumanovo | Sports Hall Pero Nakov

28 Oct 2021 19.00
KK Kumanovo 2009
LIVE
Hapoel Nufar Energy Galil Elion
YouTube

Prishtina | Pallati i Rinise dhe Sporteve

02 Nov 2021
KB Sigal Prishtina
KK Ibar Rozaje

Botevgrad | Arena Botevgrad

03 Nov 2021
BC Balkan
BC Levski 2014
All times are local time