Feni and Teodo leave it all for the second game after a drama in Kavadarci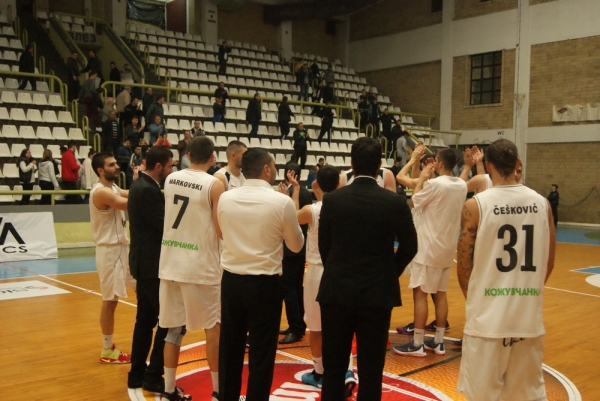 07-03-2017 | 21:48
MKK Feni Industries couldn′t use its home court well enough and defeated KK Teodo 100-97 in the first quarterfinal of SIGAL UNIQA Balkan League. The hosts led for most of the time but in the final minutes couldn′t held on to a good lead and the visitors from Tivat capitalized and achieved a good result. This means that everything will be decided in one week time when both teams will meet in Montenegro to determine the semifinalist.
Both teams exchanged points early before a 6-0 run put Feni up by 5. A bit later the difference reached 7 points but it was only 4 after ten minutes. In the second period the hosts started very well and hit some triples. That allowed them to make a 14-2 run which increased the advantage to 17 points. Just before the middle of the quarter it became 18 but then Teodo answered with 12 straight points to close the gap to just 6. Still Feni managed to hold on to a good lead and with a basket at the buzzer of the first half it went to 10.
The hosts controlled the difference early in the second half but a good run by Teodo cut the deficit to just 4. Then the visitors missed a chance to close the gap even more and after 30 minutes Feni had a 7-point lead.
A quick 5-0 in less then a minute to start the fourth period increased the hosts advantage to 12 points. Later it went to 16 but Teodo managed to answer again and closed the gap to 6 with 2:45 to play. Almost a minute later Stanojevic hit a triple for the visitors but Petrovski answered it back. Popovic however again scored for Teodo and then the visitors tied the game with 11 seconds to go. However Cheshkovic scored a triple just before the buzzer for Feni and gave his team a slight advantage before the second leg.
Matija Cheshkovic had a monster game for the winners and finished with 39 points. Branislav Djekic added 18 and 5 rebounds while Jane Petrovski had 17 points and 5 assists.
Milos Popovic had a very good game for the visitors with 25 points and 8 rebounds as Milan Stanojevic finished with 23 points and 11 assists.
Feni scored 18 triples on 35 attempts while Teodo were just 9 of 20. However the hosts couldn′t use that advantage as the visitors did well with the hosts from middle range and achieved a really good result.
---
FULL STATS FROM MKK FENI INDUSTRIES - KK TEODO GAME
News
Next Game
01 Feb 2022
LIVE
Hapoel Nufar Energy Galil Elion
BC Levski 2014
Schedule
Kfar Blum | Sports Hall

01 Feb 2022
Hapoel Nufar Energy Galil Elion
LIVE
BC Levski 2014

Haifa | Romema Arena

03 Feb 2022
Maccabi Next Urban Haifa
LIVE
BC Levski 2014

Skopje | SC Kale

09 Feb 2022 19.00
KK TFT
LIVE
BC Beroe
YouTube

Nahariya | Ein Sara

10 Feb 2022
Ironi Rain Nahariya
LIVE
KK Ibar Rozaje

Nahariya | Ein Sara

15 Feb 2022
Ironi Rain Nahariya
LIVE
KB Sigal Prishtina
Artmotion, Sport 5, YouTube
All times are local time