Levski Lukoil wins a hard fought game to reach the Final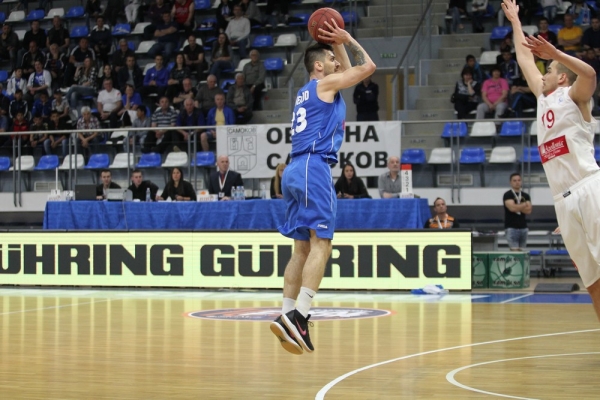 14-04-2018 | 17:38
BC Levski Lukoil will play in the final of SIGAL-UNIQA Balkan League. In the first semifinal The Blues defeated KK Blokotehna 85-81 after an intense and hard fought game. Both teams offered a great battle from the first to the last minute and the winner was decided in the end.
A great start by Blokotehna gave the team a 10-2 lead. After Levski closed it to just 3 points, coach Ilievski took a timeout and the Macedonians answered with three straight triples to go up by 11. Then The Blues tried to cut it again but couldn′t do it and with the fifth triple of the first quarter, Blokotehna was up by 12 points at the end of it. The team managed to keep its good advantage in the second period as well answering each attempt by its opponent to get closer. However Levski managed to finish the first half really well and thanks to a 10-0 run managed to cut its deficit to just a single point. A big problem for Blokotehna was also the free throw shooting as the team missed 8 of its 13 attempts.
The third quarter was tightly contested one as both sides fought really hard. Levski first managed to tie and then the teams started exchanging baskets. When the period ended the Macedonians were up by just 4 points and there was still everything to play for.
The Blues took the lead but then with 6 minutes to go Glavchev tied the score with a triple. Then Levski answered with two of their own to go up by 6 and kept the lead after that. With 1.52 to play Marinov scored a three-pointer to again make it 6 but still Blokotehna didn′t give up and cut it to 3 after a Glavchev triple. With 26.9 to go the difference was again 3 and until the end Avramov scored four free throws to seal Levski′s win.
The Blues hit 15 triples on their way to the win which is three more than what Blokotehna scored 12.
Bozhidar Avramov was the top scorer for the winners with 26 points. Stanimir Marinov also did well with 19 and 7 assists as Pavlin Ivanov added 9 points.
Shakir Smith led Blokotehna with his 21 points. Goran Glavchev played well and scored 19 as Marjan Mladenovikj added 16 and 9 assists.
---
FULL STATS FROM KK BLOKOTEHNA-NB - BC LEVSKI LUKOIL GAME
News
Next Game
No Games Scheduled