Domestic leagues: Levski Lukoil holds on in Samokov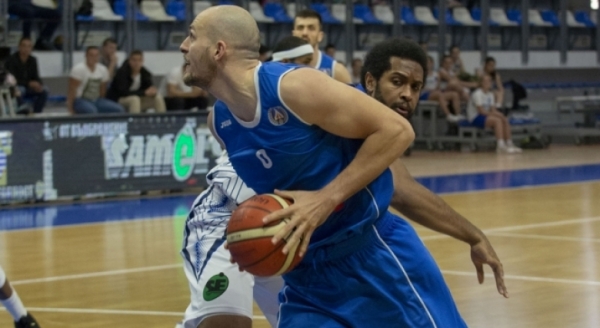 lap.bg
19-04-2018 | 00:06
BC Levski Lukoil recorded a dramatic yet really important victory in Bulgarian league. The Blues visited BC Rilski Sportist in a BIBL Final 4 participants battle and managed to take 75-73 win in the final seconds.
The visitors started very well and scored the first 8 points of the game. They continued to play well and at one moment had 23 point advantage. Step by step though Rilski started to come back and in the fourth period first tied the score and then even took the lead for a while for the first time. Levski however answered, then Rilski tied again and when Travis Taylor missed a dunk, it gave Levski the chance to win. Avramov was fouled with 4 seconds to go and made both free throws to put his team ahead and then Wright lost the ball and the game was over.
Bozhidar Avramov was the best for the winners with 22 points and 5 assists. Nemanja Milosevic added 17 points and 5 rebounds while Keith Clanton had 11 and 8.
Derek Wright led Rilski with 23 points and 5 assists while Travis Taylor had 21 points and 7 rebounds.
With two rounds to go Levski Lukoil is first with 17 wins and 5 defeats. Akademik is third with 16-6 while Rilski follows with 16-7 but also a game more.
News
Next Game
25 Oct 2021
19.00
KB Sigal Prishtina
BC Beroe


Pallati i Rinise dhe Sporteve
Referees:
Haris Bijedic
Aleksandar Pavlov
Alija Ferevski
Commissioner:
Faton Kurshumlija
Schedule
Prishtina | Pallati i Rinise dhe Sporteve

25 Oct 2021 19.00
KB Sigal Prishtina
BC Beroe

Skopjie | Nezavisna Makedonija

26 Oct 2021 19.00
KK Navico Akademija FMP
Hapoel Nufar Energy Galil Elion
YouTube

Rozaje | Sportski Centar

27 Oct 2021 17.00
KK Ibar Rozaje
BC Beroe
YouTube

Skopje | SC Kale

27 Oct 2021 19.00
KK TFT
BC Akademik Plovdiv
YouTube

Kumanovo | Sports Hall Pero Nakov

28 Oct 2021 19.00
KK Kumanovo 2009
Hapoel Nufar Energy Galil Elion
YouTube

Prishtina | Pallati i Rinise dhe Sporteve

02 Nov 2021
KB Sigal Prishtina
KK Ibar Rozaje
All times are local time