Domestic leagues: Rilski Sportist won the bronze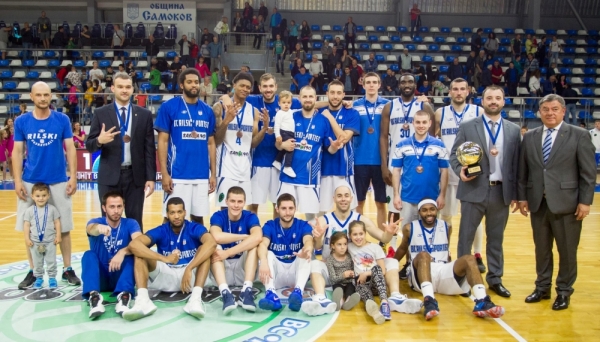 nbl.basketball.bg
23-05-2018 | 13:50
BC Rilski Sportist took the bronze medals in Bulgarian league. The Samokov team defeated BC Akademik Bultex 99 by 92-77 at home to win the series 2-0 and finish third.
In the first half the game was close as both sides were exchanging baskets. Rilski managed to make its move in the third period when the hosts took a double digit lead which they held on until the end.
Derek Wright had a great game for the winners with 21 points and 11 assists. Travis Taylor finished the game with 15 points as Yordan Bozov scored 14.
The visitors were led by Dimitar Dimitrov with 21 points as Martin Durchev added 19.
News
Next Game
25 Oct 2021
19.00
KB Sigal Prishtina
BC Beroe


Pallati i Rinise dhe Sporteve
Referees:
Haris Bijedic
Aleksandar Pavlov
Alija Ferevski
Commissioner:
Faton Kurshumlija
Schedule
Prishtina | Pallati i Rinise dhe Sporteve

25 Oct 2021 19.00
KB Sigal Prishtina
BC Beroe

Skopjie | Nezavisna Makedonija

26 Oct 2021 19.00
KK Navico Akademija FMP
Hapoel Nufar Energy Galil Elion
YouTube

Rozaje | Sportski Centar

27 Oct 2021 17.00
KK Ibar Rozaje
BC Beroe
YouTube

Skopje | SC Kale

27 Oct 2021 19.00
KK TFT
BC Akademik Plovdiv
YouTube

Kumanovo | Sports Hall Pero Nakov

28 Oct 2021 19.00
KK Kumanovo 2009
Hapoel Nufar Energy Galil Elion
YouTube

Prishtina | Pallati i Rinise dhe Sporteve

02 Nov 2021
KB Sigal Prishtina
KK Ibar Rozaje
All times are local time