Domestic leagues: Barsy finished second in Kazakhstan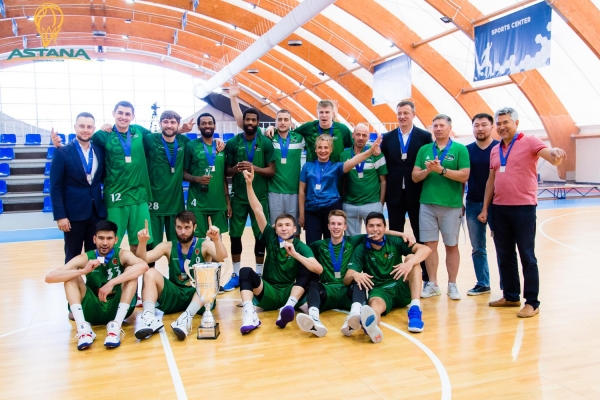 05-06-2019 | 11:02 | nbf.kz
BC Barsy Atyrau finished second in Kazakhstan league. In the Final the team lost to the champions Astana 0-2 in the series after two hard fought games. The first one was lost by 5 points while the second by 9.
Astana won the second match 80-71 at home and lifted the trophy. At the break Barsy was up by a points but then the team scored just 9 points in the third quarter to go down by 5. It had its chances in the final ten minutes but the hosts prevaile and once again became champions.
Donte McGill had a great game for Barsy finishing with 35 points, 8 assists and 7 rebounds. Christopher McEachin added 14 points as Rustam Utegen had 12 and 9 rebounds.
News
Next Game
01 Dec 2022
17:30
Hapoel Altshuler Shaham Beer Sheva/Dimona
BC Beroe


Noam Khayim Sport Complex
Referees:
Konstantinos Xenikakis
Ioannis Bakalis
Omer Waserman
Commissioner:
Shlomy Even Haim
Schedule
Beer Sheva | Noam Khayim Sport Complex

01 Dec 2022 17:30
Hapoel Altshuler Shaham Beer Sheva/Dimona
BC Beroe

Stara Zagora | Obshtinska

07 Dec 2022
BC Beroe
BC Budivelnyk Kyiv

Stara Zagora | Obshtinska

13 Dec 2022
BC Beroe
KB Bashkimi
Sport 5, Youtube

Sofia | Universiada

15 Dec 2022
BC Levski 2014
KB Bashkimi

Peje | Karagaci

20 Dec 2022
KB Peja
KK Milenijum Kodio

Prizren | Sezai Surroi

27 Dec 2022
KB Bashkimi
Hapoel Altshuler Shaham Beer Sheva/Dimona
All times are local time