Great second half gives Vllaznia another win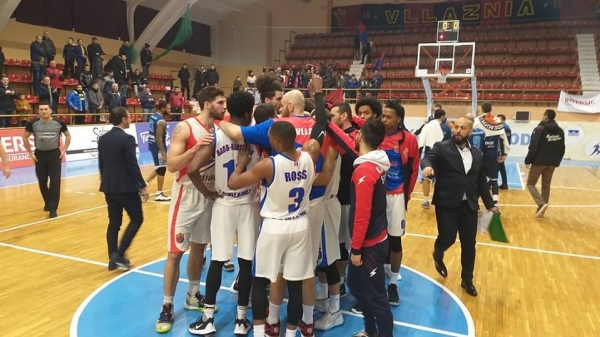 03-03-2020 | 18:45
KB Vllaznia recorded its second straight win in the Third Stage in the Balkan League. The Shkodra team visited Ibar and thanks to a great second half took 82-66 victory. It puts the team tied with Ibar with 4-6 record and two games to play but the Montenegrins have the advantage in the head to head record due to winning the first two gamse. In two weeks they will visit Peja while Vllaznia will travel to Rahoveci and will be looking to make it three in a row.
After an even start in which both teams didn′t score a lot, the hosts broke the tie with 9-0 run. They continued to lead until the end of the first quarter and had good advantage in the second took an 11-point advantage. Vllaznia though managed to respond and finished the half well closing the gap to just 3 points after 20 minutes.
Vllaznia made its move at the end of the third quarter when they finished it on a 9-2 run to go up by 7 points. The good performance continued after that as Vllaznia took a double-digit lead and it even went to 18 points shortly before the end as the visitors cruised on to take the victory.
Devonte Thomas was he top performer for the winners with 20 points, 8 rebounds and 4 assists while Justin Ross also did well adding 17 points.
The hosts were led by Eldin Huremovic with 13 points and 8 rebounds as Marko Ljujic had 12 and 6.
News
Next Game
No Games Scheduled