KK Kumanovo 2009 has applied for joining the BIBL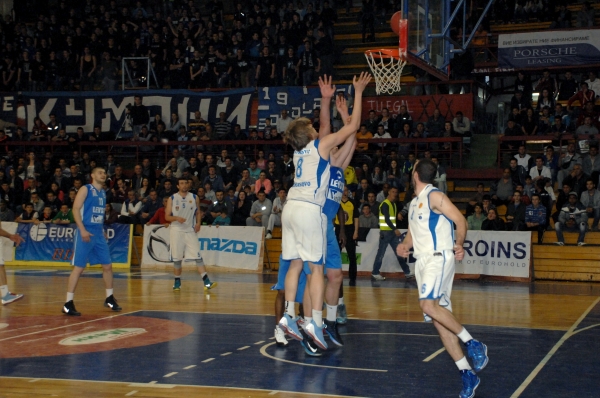 24-07-2020 | 15:23
KK Kumanovo 2009 has officially applied to come back to the Balkan League from the upcoming season 2020-2021. The request supported by the North Macedonia Basketball Federation arrived yesterday and all the necessary documents in order to register have been sent back by the League.
Thus, they are the 2nd Macedoanian club to represent the country in the BIBL.
KK Kumanovo 2009 is a team with traditions in the BIBL. They participated during the seasons 2012-2013, 2013-2014, 2014-2015 with the best performances of the club in season 2016-2017 when they finished as runner-ups losing the final series from BC Beroe. Due to financial problems and some internal management issues, after mutual agreement with the BIBL, KK Kumanovo 2009 had to stop playing in November 2017 in the middle of the season 2017-2018.
Despite this, some of the most intriguing thriller games in the history of the Balkan League have been played exactly in Kumanovo - vs. BC Rilski Sportist, BC Gilboa Galil, BC Levski Sofia, BC Kavala, etc.
At present the club has totally new management and big financial support by the municipality of the city of Kumanovo and the Mayor himself - Mr. Maksim Dimitrievski. He happens to be a huge supporter to the sports generally and he is the one staying strongly behind the decision KK Kumanovo 2009 to come back on the international stage through the BIBL.
The team has started already their roster selection and expressed ambitions to compete for the title.
As soon as the travelling situation between Bulgaria and North Macedonia improves, the Sports Director Mr. Shay Shtriks will pay a visit to Kumanovo to meet the new management and Mr. Dimitrievski himself.
News
Next Game
02 Dec 2020
17.00LIVE
YouTube
KK Ibar Rozaje
KK TFT


Sportski Centar
Referees:
Xhelal Mumini
Dardan Maxhuni
Elldin Uglari
Commissioner:
Faton Kurshumlija
Schedule
Rozaje | Sportski Centar

02 Dec 2020 17.00
KK Ibar Rozaje
LIVE
KK TFT
YouTube

Stara Zagora | Obshtinska

02 Dec 2020 18.30
BC Beroe
LIVE
KK Teodo
YouTube

Plovdiv | Complex Sila

03 Dec 2020 18.00
BC Akademik Plovdiv
LIVE
KK Teodo
YouTube

Stara Zagora | Obshtinska

08 Dec 2020
BC Beroe
LIVE
KK Ibar Rozaje
YouTube

Kumanovo | Sports Hall Pero Nakov

09 Dec 2020
KK Kumanovo 2009
LIVE
KK Teodo
YouTube

Beer Sheva | The Shell Arena

09 Dec 2020 19.30
Hapoel Altshuler Shaham Be′er Sheva B.C.
LIVE
Hapoel Bank Yahav Jerusalem
Sport 5, YouTube
All times are local time