BIBL and Winner League present the 12 Israeli clubs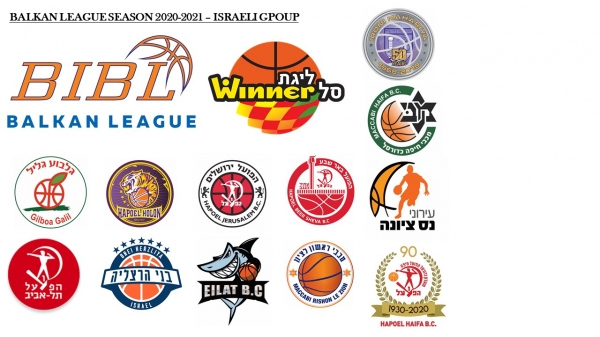 02-10-2020 | 16:28
Earlier today the BIBL and the Winner League has made history by registering 12 out of the 13 clubs members of the Israel′s strongest basketball competition.
Although this is not the first time Israeli teams join the competition, the newly created system is yet about to impress.
Here we do present the names of the 12 participants who will form the Israeli group for the upcoming season.
As these teams may not be familiar to the Balkan audiance, a detailed presentation for each one of them separately will follow during the next days.
-

Hapoel Holon, Holon

-

Hapoel Bank Yahav Jerusalem, Jerusalem

-

Maccabi Haifa, Haifa

-

Hapoel Gilboa/Galil,

-

Hapoel Altshuler shaham Be′er Sheva, Be′er Sheva

-

Maccabi Rishon Le Zion,

Rishon Le Zion

-

Ironi Nahariya, Nahariya

-

Hapoel SP Tel Aviv, Tel Aviv

-

Ironi Hai Motors Ness Ziona, Ness Ziona

-

Hapoel B Cure lazer Haifa, Haifa

-

Bnei Hertzliya, Hertzliya

-

Hapoel Yossi Avrahami Eilat, Eilat
News
Next Game
24 Jan 2022
18.00
Sport 5, YouTube
KK TFT
Ironi Rain Nahariya


SC Kale
Referees:
Ognjen Jokic
Nikos Tziopanos
Ioannis Agrafiotis
Commissioner:
Zoran Sutulovic
Schedule
Skopje | SC Kale

24 Jan 2022 18.00
KK TFT
Ironi Rain Nahariya
Sport 5, YouTube

Rozaje | Sportski Centar

25 Jan 2022 17.00
KK Ibar Rozaje
LIVE
Ironi Rain Nahariya
Sport 5, YouTube

Skopjie | Nezavisna Makedonija

25 Jan 2022 17.00
KK Navico Akademija FMP
LIVE
BC Balkan
YouTube

Prishtina | Pallati i Rinise dhe Sporteve

26 Jan 2022 20.00
KB Sigal Prishtina
LIVE
Ironi Rain Nahariya
Artmotion, Sport 5, YouTube

Kfar Blum | Sports Hall

01 Feb 2022
Hapoel Nufar Energy Galil Elion
LIVE
BC Levski 2014

Skopje | SC Kale

01 Feb 2022 19.00
KK TFT
BC Beroe
YouTube
All times are local time