Shay Shtriks: We are going to have one of the most challenging seasons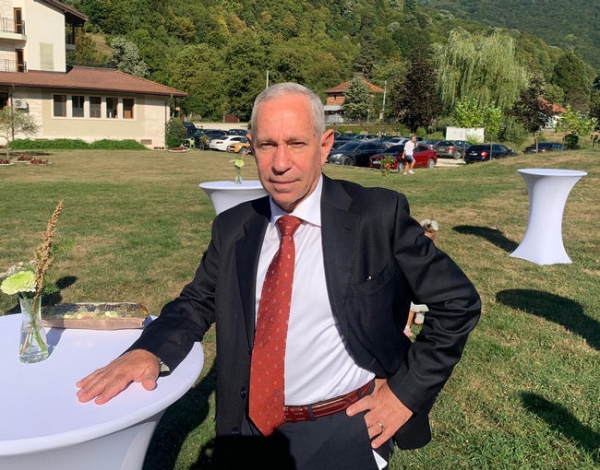 20-10-2020 | 16:16
The season in Delasport Balkan League is set to continue on Wednesday evening with the Balkan teams starting their participation as well. That′s why the Sports Director of the competition - Shay Shtriks, had something to say about the clashes ahead of us:
Dear Basketball friends,
Last week on 13.10.2020 in Israel and tomorrow 21.10.2020 on the Balkans, Season No 13 of the Balkan League with the new name Delasport Balkan League begins.
A big dark cloud is over our world now, named COVD-19, which made bad influence on the life of the entire world – private, professional and sports as well.
Our beloved basketball game was almost shutdown but we took decision to do our best to find the way to provide to all our basketball fans and to our teams the 13th season so that we can find some happy moments in these very unusual situation.
We have been working hard. We managed to make AGAIN history in the Delasport Balkan League.
For season 2020-21 there will be 12 teams from Israel, 2 from Bulgaria, 2 from North Macedonia and 2 from Montenegro. We do hope that eventually the next season we will have again teams from Albania, Greece and Kosovo as the door of Delasport Balkan League is always open for cooperation and for good basketball.
We are going to have one of the most challenging seasons ever but for sure it will be full of competitive interesting basketball games. Thus we will give to all the basketball fans the possibility to enjoy from a high level basketball.
All the games in Israel and partly of the Balkan countries will be broadcast LIVE on TV and ALL the games of Delasport Balkan League will be broadcast LIVE on our YouTube channel. The information about the games is updated on the official web site – www.balkanleague.net as well as in the social media.
All of us are strong and we believe in our sport, we believe in our basketball game and we will do it - we will win the "war" against the COVID 19 keeping the health of our family members, teammates, friends, opponents, referees and everyone involved on and off the court until April 2021.
I wish everyone a very successful and healthy season 2020-2021 and may the best club win!
Shay Shtriks,
Delasport Balkan League Sports Director
News
Next Game
26 Nov 2020
19.30LIVE
YouTube
KK TFT
KK Kumanovo 2009


SC Kale
Referees:
Aleksandar Milojevik
Alija Ferevski
Tomi Panov
Commissioner:
Marjan Todorovski
Schedule
Skopje | SC Kale

26 Nov 2020 19.30
KK TFT
LIVE
KK Kumanovo 2009
YouTube

Herzliya | Hayovel

29 Nov 2020 18.00
Bnei Herzliya
LIVE
Hapoel B-Cure Laser Haifa
Sport 5 Star, YouTube

Holon | Toto Arena

29 Nov 2020 19.05
Hapoel Holon B.C.
LIVE
Ironi Hai Motors Ness Ziona
Sport 5, YouTube

Stara Zagora | Obshtinska

01 Dec 2020
BC Beroe
KK Teodo
YouTube

Rozaje | Sportski Centar

02 Dec 2020
KK Ibar Rozaje
KK TFT
YouTube

Plovdiv | Complex Sila

03 Dec 2020
BC Akademik Plovdiv
KK Teodo
YouTube
All times are local time