A powerful finish leads Gilboa Galil to 2-0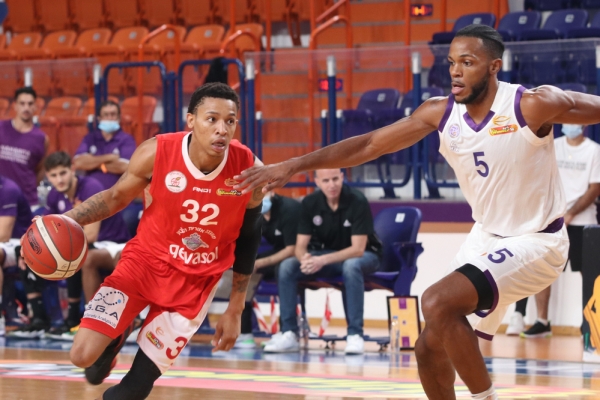 22-10-2020 | 22:52
Hapoel Gilboa Galil went to the top of Group B in Delasport Balkan League. The team won away against Ironi Nahariya 103-89 thanks to a great play in the final minutes. The team had the lead for the second half before the hosts managed to tie the game only to see the visitors once again pull away for good. Thanks to that victory Gilboa Galil is now first in the group with 2-0 record and is in a very good postion. On Sunday Ironi Nahariya will host Maccabi Haifa in the next game of the group.
Near the middle of the first quarter the home side managed to pull away by 7 points and managed to keep the distance. The difference even reached double digits but the last five points of the period were for the visitors to make it a 6-point game. In the second quarter the hosts continued to have the lead but it wasn′t that big. Galil was always close and thanks to a good finish of the first half, they even took the lead by 2 points.
The visitors opened up by 10-2 run and their advantage reached 10. Despite the fact the the hosts managed to close the gap to jsut 2, a great 15-2 run took Galil′s lead to 15 points before Ironi answered with a triple to make it 12 before the final ten minutes. The hosts though never surrendered and with a great start to the final quarter managed to tie the game at 87 points. What followed however was the perfect response as Galil finished the game with a 16-2 run to win for second time in a row.
The visitors had seven players scoring in double figures. Joseph Thomasson and Jehyve Floyd (11 rebounds) were the top scorers for the winners with 15 points apiece as Kerry Blackshear added 14 and 9 boards.
Joseph Alexander was the top scorer in the game with 25 points while Kalin Lucas added 13.
News
Next Game
08 Dec 2020
LIVE
YouTube
BC Beroe
KK Ibar Rozaje

| | |
| --- | --- |
| Obshtinska | Referees: |
Schedule
Stara Zagora | Obshtinska

08 Dec 2020
BC Beroe
LIVE
KK Ibar Rozaje
YouTube

Kumanovo | Sports Hall Pero Nakov

09 Dec 2020
KK Kumanovo 2009
LIVE
KK Teodo
YouTube

Beer Sheva | The Shell Arena

09 Dec 2020 19.30
Hapoel Altshuler Shaham Be′er Sheva B.C.
LIVE
Hapoel Bank Yahav Jerusalem
Sport 5, YouTube

Plovdiv | Complex Sila

10 Dec 2020
BC Akademik Plovdiv
KK Ibar Rozaje
YouTube

Skopje | SC Kale

17 Dec 2020
KK TFT
BC Akademik Plovdiv
YouTube

Kumanovo | Sports Hall Pero Nakov

18 Dec 2020
KK Kumanovo 2009
BC Akademik Plovdiv
YouTube
All times are local time