The Israeli groups back in November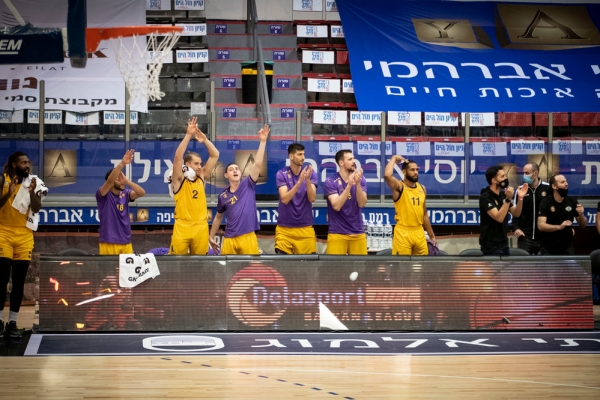 23-11-2020 | 12:42
After a long break the games in Israel will be resumed on 29.11.2020 with 2 games from Round 4
Round 4, SUN 29.11.2020 LIVE on Sport 5
Group C15 – SUN 29.11.20 -
Hapoel Holon vs Ironi Hai Motors Ness Ziona - 19:05 LIVE Sport 5
Group A13 – SUN 29.11.20 -
Bnei Hertzliya vs Hapoel B Cure lazer Haifa - 18:00 LIVE Sport 5 Star
The Twelve (12) Israeli teams were divided to Four (4) groups of 3 teams each one with a round –robin – system. Each team should play against each other team of their group twice during the regular season in the first stage. From the total of 24 games, already 16 games were played in October, and the remaining Eight (8) games will start to be played on 29.11.2020.
In December 2020, after BIBL and Winner League coordinate the schedule, Two (2) more games will take place.
The last 4 (four) games left will be played inJanuary 2021.
The Two (2) Semi Final games will be played in the first week of February 2021.
The four (4) first-placed teams in their groups will play ONE game in order to determine the 2 teams to continue to Stage 2. The pairs as well as the hosting team shall be decided by draw held by the IBSL after the 6 rounds of 24 games are finished.
The second stage with 4 teams from the Balkans and 2 teams from Israel will start in February 2021.
Season 2020-2021 will finish with Final Four event in April 2021.
The General program for stage 2-3 and F4
02-03.02.2021
SR, Round 1
09-10.02.2021
SR, Round 2
25-26.02.2021
SR, Round 3 (THU- FRI)
09-10.03.2021
SR, Round 4
16-17.03.2021
SR, Round 5
23-24.03.2021
SR, Round 6
30-31.03.2021
Play Offs, Round 1
06-07.04.2021
Play Offs, Round 2
16-18.04.2021
FINAL FOUR FRI-SUN
The calendar and the program may be change due to TV request and COVID 19 restrictions.
News
Next Game
27 Jan 2021
17.00LIVE
YouTube
KK Ibar Rozaje
KK Kumanovo 2009


Sportski Centar
Referees:
Dimitrios Bitis
Nikos Tziopanos
Konstantinos Xenikakis
Commissioner:
Zoran Sutulovic
Schedule
Rozaje | Sportski Centar

27 Jan 2021 17.00
KK Ibar Rozaje
LIVE
KK Kumanovo 2009
YouTube

Plovdiv | Complex Sila

28 Jan 2021 18.00
BC Akademik Plovdiv
LIVE
BC Beroe
YouTube

Kumanovo | Sports Hall Pero Nakov

02 Feb 2021 19.00
KK Kumanovo 2009
LIVE
BC Beroe
YouTube

Skopje | SC Kale

02 Feb 2021 19.30
KK TFT
LIVE
KK Ibar Rozaje
YouTube
All times are local time