Superb second quarter lifts TFT over Kumanovo 2009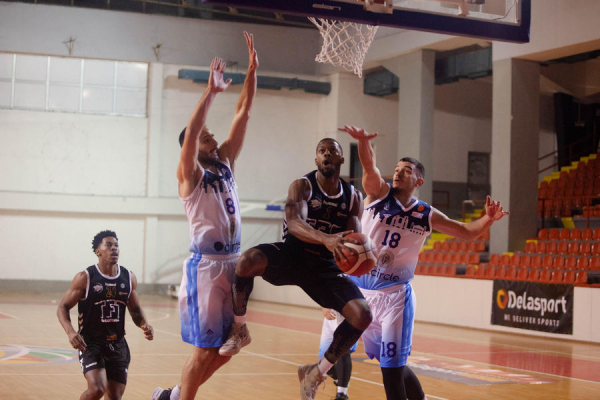 26-11-2020 | 22:27
KK TFT
recorded its second straight win in Delasport Balkan League. The Skopje team hosted
KK Kumanovo 2009
and managed to take a convincing
83-54
victory. It was mainly thanks to a great second quarter when the hosts pulled away and never looked back after. They will also be happy that they won by more points that they lost in the first game between the team which will give them an advantage. Next week TFT will have to visit Ibar in Rozaje while Kumanovo will host Teodo on December 9th.
It was an even first quarter with the hosts leading by just 3 but in the second everything changed. They started it with a 12-0 run which put them up by 15 and the difference grew even more after. It soon went over 20 points and at the break it reached 24 which meant that TFT had a great advantage before the second half.
In the second half the hosts didn't have to do anything special but to control the margin. They managed to do just that increasing it in the third quarter by 5 points and keeping it in the final ten minutes.
The hosts hit 13 triples in this game which compared to just 5 by the visitors were more than enough for a big win.
TFT were led by
Lachlan Anderson
who finished as top scorer with 30 points.
Landrius Horton
made his BIBL debut by scoring 19 points as
Tyron Harris
had 18 points, 8 assists and 7 rebounds.
Aleksandar Andreejevic
was the only players in the game finishing with a double-double after recording 15 points and 11 rebounds.
Damjan Robev
and
Jovan Crnic
were the other two players in double figures for Kumanovo with 13 points apiece.
BOXSCORE
News
Next Game
28 Jan 2021
18.00LIVE
YouTube
BC Akademik Plovdiv
BC Beroe


Complex Sila
Referees:
Aleksandar Milojevik
Alija Ferevski
Ivan Mijalkovski

Schedule
Plovdiv | Complex Sila

28 Jan 2021 18.00
BC Akademik Plovdiv
LIVE
BC Beroe
YouTube

Kumanovo | Sports Hall Pero Nakov

02 Feb 2021 19.00
KK Kumanovo 2009
LIVE
BC Beroe
YouTube

Skopje | SC Kale

02 Feb 2021 19.30
KK TFT
LIVE
KK Ibar Rozaje
YouTube
All times are local time