Delasport BIBL talks with... Tal Dunne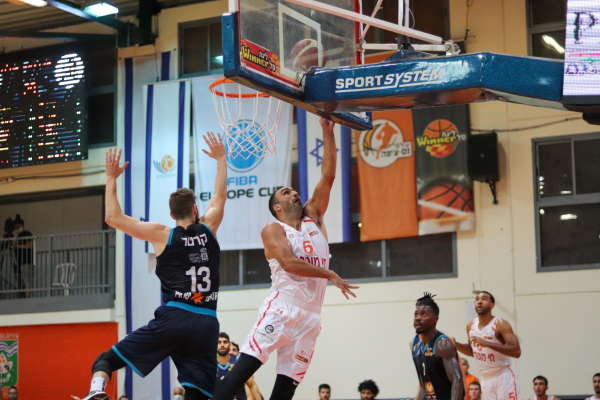 27-11-2020 | 20:10
We present you our rubric
"Delasport Balkan International Basketball League talks with..."
Our first guest is
Tal Dunne
, one of the most experienced guns of Ironi Hai Motors Ness Ziona. Born in 1987, Dunne started his professional career in 2005, and is part of the team from Ness Ziona since 2011, plus season 2008-2009.
Accomplishments:
- All-Israeli Premier League Second Team (2019)
- Israeli Premier League All-Star (2019)
- 2 × Israeli National League champion (2013, 2017)
- Israeli National League Finals MVP (2013)
- Israeli National League All-Star (2013)
How have you and your family passed the corona-virus situation? How did you manage to keep your shape during the 1st and 2nd lockdowns when you had not played for months?
- It was a tough time for sure. We were allowed to run outside, but other than that I had to practice at home on the balcony. Sport is our profession, so staying at home for so long was like staying in a cage. Luckily we have been back for a few months already, so it seems the worst is behind us and I'm glad it is.
After so many years playing in the Israeli league, do you see improvement with the level of the basketball? How does it influence the young Israeli players development?
-
There is definitely an improvement, the league is always getting better. Personally I'd like to see the import players cap dropped to a lower number, but even now there are a lot of talented, hard-working young players in Israel that are sure to have great careers if they keep up the work. I'm convinced that we will all see the results in the next couple of years.
Delasport Balkan League came as an additional competition this season, how these games will benefit your personal and team performance this season?
-
It is great to have taken part in the Balkan League this season. Playing in the BIBL has helped us get in shape early in the season, and helped us mesh together as a team. It was an important competition for us this season.
Although you are a player with experience, is there anything in basketball you are still dreaming about?
-
Of course - winning the Israeli championship and State Cup with Ness Ziona. This is my hometown club, I've played here for many seasons (Note: Tal's 11th season with the team), and being able to bring a title to Ness Ziona is still a big dream of mine.
What would you tell the Israeli children who just start playing and dream to grow up basketball players like yourself?
-
I would tell them to chase after their dream and to work as hard as possible for it! You're going to have to give up on a lot of things that are hard to give up on when you're young, but if you work hard and believe in yourself, then you can achieve your dream and make it to the highest levels.
News
Next Game
27 Jan 2021
17.00LIVE
YouTube
KK Ibar Rozaje
KK Kumanovo 2009


Sportski Centar
Referees:
Dimitrios Bitis
Nikos Tziopanos
Konstantinos Xenikakis
Commissioner:
Zoran Sutulovic
Schedule
Rozaje | Sportski Centar

27 Jan 2021 17.00
KK Ibar Rozaje
LIVE
KK Kumanovo 2009
YouTube

Plovdiv | Complex Sila

28 Jan 2021 18.00
BC Akademik Plovdiv
LIVE
BC Beroe
YouTube

Kumanovo | Sports Hall Pero Nakov

02 Feb 2021 19.00
KK Kumanovo 2009
LIVE
BC Beroe
YouTube

Skopje | SC Kale

02 Feb 2021 19.30
KK TFT
LIVE
KK Ibar Rozaje
YouTube
All times are local time