Great offensive display leads Hapoel Holon to another win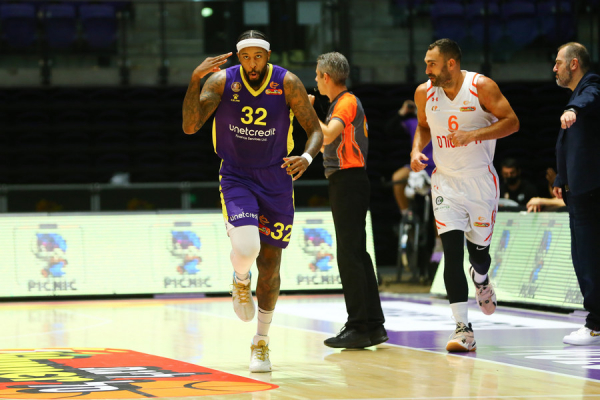 15 points for Miles
30-11-2020 | 21:58
Hapoel Holon
managed to record its third straight victory in group C of Delasport Balkan League. The team hosted
Ironi Hai Motors Ness Ziona
and thanks to a great offensive display, especially in the second half, won
100-79
. Thanks to that victory Hapoel Holon is in a great position to finish first in the group as now in order for it not to happen, the team has to lose by 19 points at home to Hapoel Eilat in the last round. Ironi Ness Ziona on the other side finished the group stage without a win in four games.
The hosts opened up the game by scoring the first six points and that set the tone for the first quarter. The hosts were in front and their advantage reached 11 points thanks to a 7-0 run a bit later. The period ended with a 6-0 run for the visitors who then in the second quarter managed to stay close. They even managed to tie the score once but Hapoel responded with 6-0 run to re-take the lead and kept the difference until the end of the half.
Early in the second the visitors tried to erase the deficit and came as close as 2 points. Holon however again reacted and with a good run restored its double-digit lead. After 30 minutes it was 12 points and then thanks to a very good performance in the final quarter it doubled and the hosts won convincingly.
The hosts were on fire with their shooting making 19 triples from 42 attempts compared to 7 of 17 for the visitors which proved to be too much. Moreover Holon had 14 offensive rebounds to just 4 for Ironi Ness Ziona.
Six players scored in double figures for the winners as
Chris Johnson
being the best with 17 points while also adding 9 rebounds.
Isaiah Miles
had 15 and 7 as three other players scored 13 points.
The hosts were led by the newcomer
Jerome Meyinsse
who had 21 points and 6 rebounds while
Kwan Cheatham
and
Tal Dunne
added 14 points apiece.
BOXSCORE
News
Next Game
21 Mar 2023
CANC
BC Budivelnyk Kyiv
KB Peja
Schedule
Sofia | Triaditsa Hall

21 Mar 2023 CANC
BC Budivelnyk Kyiv
KB Peja

Sofia | Triaditsa Hall

23 Mar 2023 CANC
BC Budivelnyk Kyiv
BC Beroe

Beer Sheva | Noam Khayim Sport Complex

28 Mar 2023
Hapoel Altshuler Shaham Beer Sheva/Dimona
KB Bashkimi

Beer Sheva | Noam Khayim Sport Complex

28 Mar 2023
Hapoel Altshuler Shaham Beer Sheva/Dimona
KB Bashkimi

Veroli | Pala Coccia

28 Mar 2023 CANC
BC Budivelnyk Kyiv
BC Levski 2014

Veroli | Pala Coccia

30 Mar 2023 CANC
BC Budivelnyk Kyiv
Hapoel Altshuler Shaham Beer Sheva/Dimona
All times are local time