BIBL: Thank you, Ironi Ness Ziona!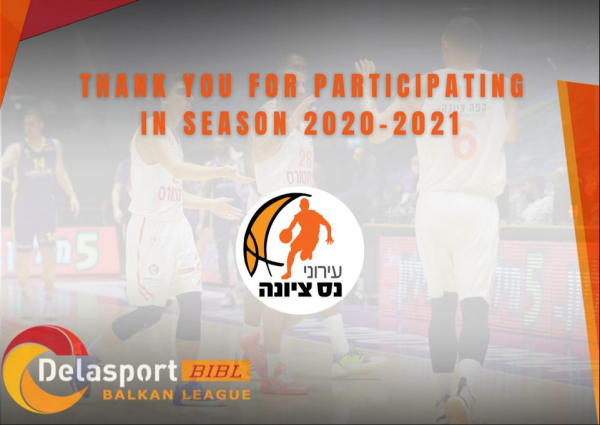 01-12-2020 | 15:13
Ironi Hai Motors Ness Ziona
is the first team in Delasport Balkan League to be sure of being eliminated already in the group stage before the last round. The team lost on Monday evening away at Hapoel Holon and finished group C with four defeats from four games. Therefore there is no more chance of qualifying further and the team's participation is over.
The management of Delasport Balkan League would therefore like to express its gratitude to
Ironi Ness Ziona
for the team's participation in the competition in season 2020/2021 in those difficult times. Although finishing with four defeats, the management and the players of the team gave it their all but unfortunately it wasn't meant to be this season.
Ironi
Ness
Ziona
however is a team with potential and BIBL would like to wish a successful campaign in FIBA Europe Cup.
After the team's final game, the Sports Director of Delasport Balkan League - Mr.
Shay Shtriks
also expressed his gratitude to the team with the following letter:
"Last night Ironi Ness Ziona played the last game in DelaSport Balkan League season 2020-21. On behalf of all the DelaSport Balkan League staff and myself, I would like to thank you for the very professional and friendly cooperation. You won our respect and our friendship. It was a short period of time that we cooperated but it was THE MOST important time for all of us. It is not important only the final result but also that all of us came winners out of the situation and we managed to bring back the basketball in one of the most difficult times in the history of the world. All of us won against the COVID-19 and we put the basketball back to life. I wish all the members of the club - management, coaching staff, players etc. to be healthy and safe and most importantly that Ironi Ness Ziona will have a successful season in the Winner league, The Israeli Basketball Cup and in FIBA Europe Cup. I do hope we will find the way for future cooperation."
News
Next Game
21 Mar 2023
CANC
BC Budivelnyk Kyiv
KB Peja
Schedule
Sofia | Triaditsa Hall

21 Mar 2023 CANC
BC Budivelnyk Kyiv
KB Peja

Sofia | Triaditsa Hall

23 Mar 2023 CANC
BC Budivelnyk Kyiv
BC Beroe

Beer Sheva | Noam Khayim Sport Complex

28 Mar 2023
Hapoel Altshuler Shaham Beer Sheva/Dimona
KB Bashkimi

Beer Sheva | Noam Khayim Sport Complex

28 Mar 2023
Hapoel Altshuler Shaham Beer Sheva/Dimona
KB Bashkimi

Veroli | Pala Coccia

28 Mar 2023 CANC
BC Budivelnyk Kyiv
BC Levski 2014

Veroli | Pala Coccia

30 Mar 2023 CANC
BC Budivelnyk Kyiv
Hapoel Altshuler Shaham Beer Sheva/Dimona
All times are local time