Akademik remains unbeaten thanks to a hot start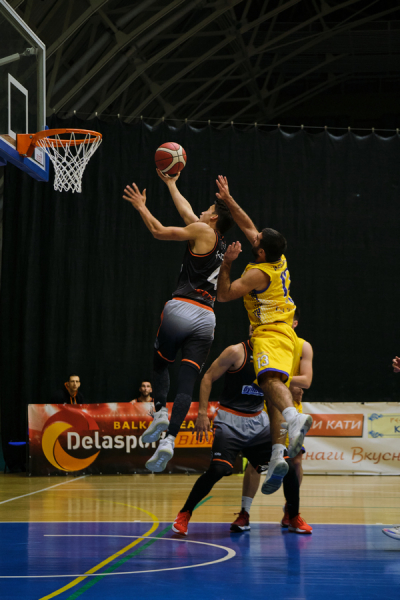 NBL
03-12-2020 | 19:57
BC Akademik Plovdiv
is still unbeated in Delasport Balkan League. The Plovdiv team won its fourth game in a row in group E after downing KK Teodo
77-65
at home. The difference was built already in the first quarter which finished great for the hosts and from then on they managed to keep their opponent distant. For Teodo it was the second defeat in as many days after the one against Beroe but this time the team played much better. The team from Tivat is now with 2 wins and 4 defeats and next week will travel to Kumanovo to play the local team.
It was a rough start for both teams as after four minutes the score was 4-4. Until the end of the first quarter though, one team dominated on the court and it was Akademik. The hosts finished it on a 16-2 run and managed to go up by double-digits. In the second quarter what Akademik did was to control the difference and at the break it was 16 points. Things didn't change a lot in the second half. The hosts' task was to keep their lead and they did it in a good way never allowing Teodo to come close. The visitors tried hard and even managed to cut the deficit to 8 with less than two minutes to go. Akademik though responded immediately and held on for the win.
A total of three players finished in double figures for the home side.
Martin Sotirov
and
Nikolay Nikolov
had 15 points apiece while
Obrad Tomic
came close to a double-double with 13 and 9 rebounds.
Arsenije Vuckovic
was the game's top scorer with 25 points but the second best for Teodo -
Lazar Durovic
, had just 7.
BOXSCORE
News
Next Game
27 Jan 2021
17.00LIVE
YouTube
KK Ibar Rozaje
KK Kumanovo 2009


Sportski Centar
Referees:
Dimitrios Bitis
Nikos Tziopanos
Konstantinos Xenikakis
Commissioner:
Zoran Sutulovic
Schedule
Rozaje | Sportski Centar

27 Jan 2021 17.00
KK Ibar Rozaje
LIVE
KK Kumanovo 2009
YouTube

Plovdiv | Complex Sila

28 Jan 2021 18.00
BC Akademik Plovdiv
LIVE
BC Beroe
YouTube

Kumanovo | Sports Hall Pero Nakov

02 Feb 2021 19.00
KK Kumanovo 2009
LIVE
BC Beroe
YouTube

Skopje | SC Kale

02 Feb 2021 19.30
KK TFT
LIVE
KK Ibar Rozaje
YouTube
All times are local time