Hapoel Tel Aviv wins in Haifa to top Group A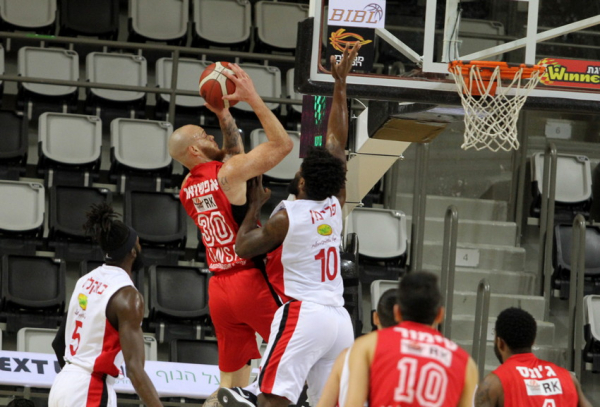 09-01-2021 | 22:54
Hapoel SP Tel Aviv
is the winner of Group A in Delasport Balkan League. The team visited
Hapoel B-Cure Laser Haifa
and thanks to a good defense won
79-73
holding on in the final minutes. That victory put Hapoel Tel Aviv on a 3-1 record and the team advanced to the Semifinals. In the next few days they'll know who the opponent will be as the winner of the game will qualify for the Second Stage of the competition.
Hapoel
Haifa
on the other side finished with 1-3 record and third place in the group.
It was a close start to the game as neither team was able to take any big advantage in the first quarter. Things changed after the middle of the second when the visitors managed to go up by 9 and a bit later even by 11. They tried to held on to that advantage until the break but just before the end of the first half Evans scored a triple to cut the deficit to just 6.
Early in the third quarter the lead went again to 10 points and it happened few times afterwards as well. In the final minute of it Hapoel Tel Aviv increased the advantage to 16 points which was the most until that moment while after 30 minutes the team was up by 14. The hosts started the last quarter eager to make a comeback but in the middle of it the difference was still 12 points. It remained the same with 2:25 to play and although Hapoel Haifa scored the last 6 points in the game, there was no real chance for them to even tie the game, let alone take the lead.
The winners were led by
Tyrique
Jones
who finished with 22 points and 8 rebounds. The only other player to score in double figures was JP Tokoto who had 19.
Amit Simhon
was the top scorer for the hosts with 12 points while
Taylor Rochestie
had 11 but also 7 turnovers. In total Hapoel Haifa had 23 turnovers, 6 more than its opponent, and that proved to be an advantage for the visitors.
BOXSCORE
News
Next Game
No Games Scheduled