Beroe scored just 74 but it was enough for a fifth win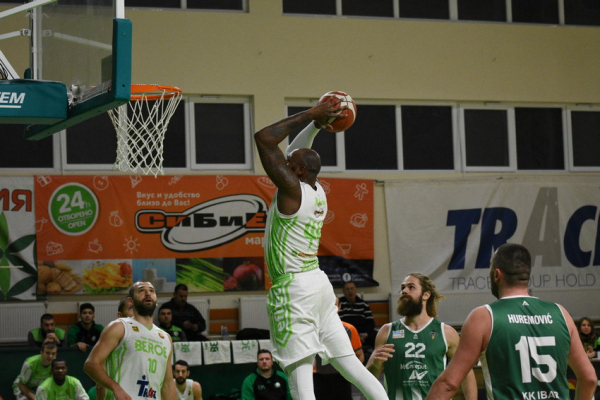 19-01-2021 | 20:04
BC Beroe
is closer and closer to the Second Stage in Delasport Balkan League. The Stara Zagora team hosted
KK Ibar
and took
74-67
victory in a hard-fought contest. It was the worst offensive performance at home for The Greens but it was enough.
Thanks to that win Beroe now has 5-3 record and only a difficult combination of results might take the team out of top 4. They can qualify without playing already on Thursday if Akademik defeats Ibar. As for the Montenegrin side, they moved to a 3-4 record but are still in with a chance to advance. The team has to play three more games and with two wins might be enough to get them to the next stage.
Beroe took the lead early and never gave it up. Ibar scored the first basket but then a 12-1 run put the hosts ahead for good. Early in the second quarter Beroe went up by 15 which was the biggest lead of the game. Ibar though responded to close the gap to just 4 at the break and in the second half it was a close affair. The visitors were trying hard to complete their comeback but they never cut the deficit to less than 4 points. The last time it happened was with 4 minutes to go but a few missed chances didn't allow them to close it further and Beroe held on for the win.
The hosts were led by
Cadarian Raines
who finished with 17 points and 6 rebounds.
Simeon
Iliev
also did well with 11 and 7 as
Brady
Rose
scored 10 points.
Nemanja Simovic
was the top scorer for the visitors with 16 points, while also adding 6 rebounds, as
Amin Hott
had 15 and 7.
BOXSCORE
News
Next Game
10 Mar 2021
20.00LIVE
Sport 5, YouTube
KK Kumanovo 2009
Hapoel Holon B.C.


Sports Hall Pero Nakov
Referees:
Ognjen Jokic
Ploutarhos Eleftheriadis
Ivan Lakicevic
Commissioner:
Georgios Tanatzis
Schedule
Kumanovo | Sports Hall Pero Nakov

10 Mar 2021 20.00
KK Kumanovo 2009
LIVE
Hapoel Holon B.C.
Sport 5, YouTube

Gan Ner | Gan Ner

16 Mar 2021
Hapoel Gilboa Galil B.C.
LIVE
KK TFT
Sport 5, YouTube

Plovdiv | Complex Sila

17 Mar 2021
BC Akademik Plovdiv
LIVE
KK Kumanovo 2009
YouTube

Gan Ner | Gan Ner

18 Mar 2021
Hapoel Gilboa Galil B.C.
LIVE
BC Beroe
Sport 5, YouTube

Holon | Toto Arena

25 Mar 2021
Hapoel Holon B.C.
LIVE
BC Akademik Plovdiv
Sport 5, YouTube

Stara Zagora | Obshtinska

31 Mar 2021
BC Beroe
LIVE
KK TFT
YouTube
All times are local time