Lubomir Minchev: I find the Second Stage of Delasport BIBL very beneficial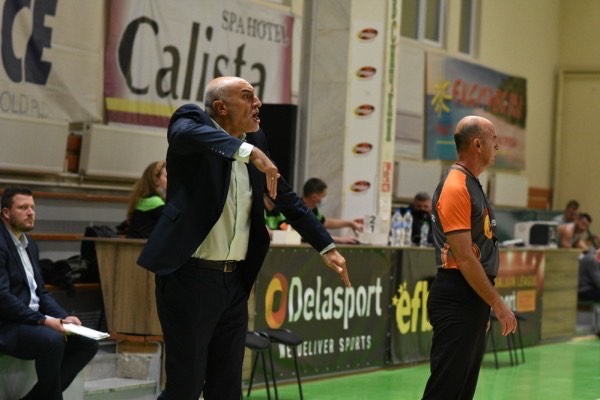 20-01-2021 | 12:46
In the fourth season of BC Beroe in Delasport Balkan International Basketball League the team now occupies second place in the standings, with two games left to play in Group E.
Here is what the head coach, Lubomir Minchev, said in a special interview for Delasport BIBL about the team spirit, strengths and ambitions in the pandemic situation that we all live in:
We hope we find you in a good health and spirit. How did you manage to pass the last 9 months since the pandemic started?
In the beginning we were all staying home. No sports activity at all. There was no information about the future. In June we started some basketball activities. I mean, scouting players for the next season and managing the team. From March to August, our training started, but it was really hard. We felt uncertain about the next season.
Since 2020 has been tough to every sphere, either economy, medical care or sports, as well, how does the coronavirus pandemic affect the team's preparation and current condition?
During the training we had no issues. However, the ruling of national health authorities for mandatory 10-day quarantine for every COVID contact person was a big obstacle. This decision was not reasonable because if one player was positive for COVID-19 then the whole team had to be quarantined. For sure, this is negative for the team and the championship. The form of players dropped significantly. In Beroe we had such a situation and it was horrible. Eventually, right after the team quarantine ended we played games. It was terrible.
You have managed to collect this season a lot of leading Bulgarian players and made a very competitive team. However, you have been struggling in the local league with bad performance and tough losses and playing a very different basketball game in Delasport Balkan League games? What is the reason for that?
We did efforts to bring together some top players in the beginning of 2020. As we succeeded many of them had just recovered from injuries. For sure top players but their form was not satisfying. This year we also have some top players but we were informed that they haven't played for a while. This is important. I think that in the current situation the perseverance will be a problem for all teams. It will be impossible to be at top of our game.
How would you determine the level of the Delasport BIBL after 12 Israeli teams joined the competition this year?
We haven't played yet against the teams from Israel. They have some excellent teams. I find the Second Stage of Delasport BIBL very beneficial. Some games will be hard for sure.
What are the ambitions you have set for your team this season for both Delasport Balkan League and the Bulgarian National League?
In my opinion the Israeli teams will be better than us. For me, the important thing will be to achieve the best possible ranking.
News
Next Game
10 Mar 2021
20.00LIVE
Sport 5, YouTube
KK Kumanovo 2009
Hapoel Holon B.C.


Sports Hall Pero Nakov
Referees:
Ognjen Jokic
Ploutarhos Eleftheriadis
Ivan Lakicevic
Commissioner:
Georgios Tanatzis
Schedule
Kumanovo | Sports Hall Pero Nakov

10 Mar 2021 20.00
KK Kumanovo 2009
LIVE
Hapoel Holon B.C.
Sport 5, YouTube

Gan Ner | Gan Ner

16 Mar 2021
Hapoel Gilboa Galil B.C.
LIVE
KK TFT
Sport 5, YouTube

Plovdiv | Complex Sila

17 Mar 2021
BC Akademik Plovdiv
LIVE
KK Kumanovo 2009
YouTube

Gan Ner | Gan Ner

18 Mar 2021
Hapoel Gilboa Galil B.C.
LIVE
BC Beroe
Sport 5, YouTube

Holon | Toto Arena

25 Mar 2021
Hapoel Holon B.C.
LIVE
BC Akademik Plovdiv
Sport 5, YouTube

Stara Zagora | Obshtinska

31 Mar 2021
BC Beroe
LIVE
KK TFT
YouTube
All times are local time