Just 5 games left but a lot of options in Group E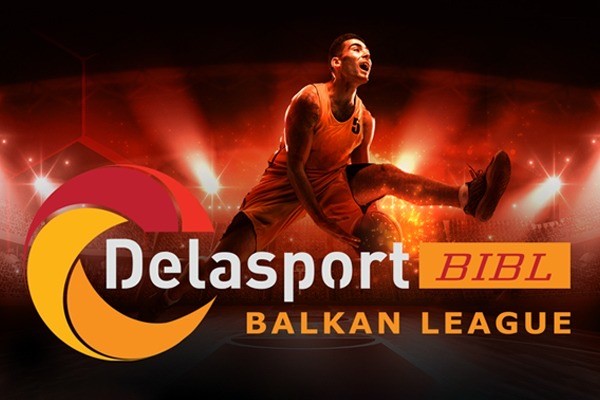 22-01-2021 | 15:31
Delasport Balkan League is nearing the end of the First Stage which will bein less that two weeks time. We already know some of the teams that will continue in the second - Hapoel Holon and Hapoel Gilboa Galil from the Israeli groups, and Akademik Plovdiv and Beroe from Group E. There are still two more spots to be taken and with just five games left to be played, the number of options is really big. There are also possibilities that four teams will finish with the same record of 4 wins and 6 defeats and then the games between them will come in to calculating the final standings.
Below we'll break down the possibilities for each of the six teams in group E:
1.
BC Akademik Plovdiv
- 7 wins and 2 defeats. With just one more game against Beroe left, there are two options for Akademik - to finish first or second. A win in the final game will mean first place for the Plovdiv team but if Beroe takes that game by 2 points margin and then beats Kumanovo in the final round, then The Greens will finish first.
2.
BC Beroe
- 5 wins and 3 defeats. Beroe has two more games left and even with two defeats still the team can't go out of the Top 4. Beroe also has the possibility to finish first and that goes through win by 2 points over Akademik Plovdiv and then a win against Kumanovo 2009.
3.
KK Teodo
- 4 wins and 5 defeats. The Tivat side has one game left against KK Kumanovo 2009. If Teodo wins it the team will secure its place in the Second Stage. A defeat however will mean that Teodo will have to rely on other results in order to stay in the Top 4.
4.
KK TFT
- 3 wins and 6 defeats. The Skopje team has just one more game left against KK Ibar at home. It's a must win match for the team, as regardles of what happens in the matches next week,
TFT
will have a chance of qualifying. What the chances are, will depend on the results in the two games that will be played in Montenegro. If
Ibar
beats
Kumanovo
, then
TFT
will have to look to defeat the Montenegrins by at least 18 points having lost by 17 in Rozaje but also for Kumanovo not to win any of its three games. The other hope for
TFT
is also for
Kumanovo
to win only one if its three games and it has to be against Ibar. Then
TFT
won't have to look for a big win over
Ibar
as it will have the tie-breaker advantage over the fellow North Macedonian side. One more possibility for
TFT
also depends on
Kumanovo
. The team needs to defeat both
Teodo
and
Ibar
in Montenegro, and then a win by
TFT
over
Ibar
will put both North Macedonian teams in the Second Stage.
5.
Ibar Rozaje
- 3 wins and 5 defeats. Ibar has a home game against Kumanovo and an away one against TFT. What is clear that with two defeats Ibar can't qualify for the Second Stage. It can happen with just a win over Kumanovo but then an eventual defeat against TFT may be up to 17 points. If the loss is bigger, than the hope for Ibar is that Kumanovo will win at least one of its two last games. Ibar can qualify also with a defeat at home by Kumanovo but then will need to win TFT in Skopje. Then however the point difference will come in to play.
6.
KK Kumanovo 2009
- 3 wins and 6 defeats. This is the team with most games left and therefore with the biggest chances of qualifying. All depends on Kumanovo as two wins from the three games will mean a 100% Top 4 finish. The team will have a chance to qualify even with one win but it has to be against Ibar and by at least 3 points. Then though they'll have to hope that Ibar will defeat KK TFT away because if Kumanovo is tied with the team from Skopje, TFT will have the tie-breaker advantage.
As it can be seen, although we have such a small number of games, the options for the final standings are a lot. A big part of the questions will be answered already next week when Kumanovo 2009 will visit Teodo and Ibar in Montenegro. Only then the options will become a lot less and the picture before the last week will be much more clear.
News
Next Game
10 Mar 2021
20.00LIVE
Sport 5, YouTube
KK Kumanovo 2009
Hapoel Holon B.C.


Sports Hall Pero Nakov
Referees:
Ognjen Jokic
Ploutarhos Eleftheriadis
Ivan Lakicevic
Commissioner:
Georgios Tanatzis
Schedule
Kumanovo | Sports Hall Pero Nakov

10 Mar 2021 20.00
KK Kumanovo 2009
LIVE
Hapoel Holon B.C.
Sport 5, YouTube

Gan Ner | Gan Ner

16 Mar 2021
Hapoel Gilboa Galil B.C.
LIVE
KK TFT
Sport 5, YouTube

Plovdiv | Complex Sila

17 Mar 2021
BC Akademik Plovdiv
LIVE
KK Kumanovo 2009
YouTube

Gan Ner | Gan Ner

18 Mar 2021
Hapoel Gilboa Galil B.C.
LIVE
BC Beroe
Sport 5, YouTube

Holon | Toto Arena

25 Mar 2021
Hapoel Holon B.C.
LIVE
BC Akademik Plovdiv
Sport 5, YouTube

Stara Zagora | Obshtinska

31 Mar 2021
BC Beroe
LIVE
KK TFT
YouTube
All times are local time