Djekic returns to Kumanovo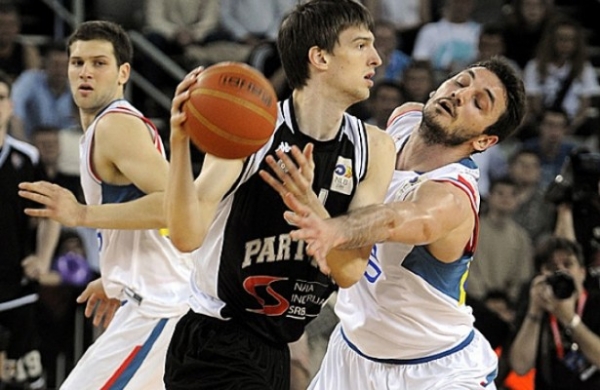 25-01-2021 | 15:08
KK Kumanovo 2009
will be able to count on a new player for the final games of the First Stage of Delasport Balkan League. The North Macedonian side registered
Branislav
Djekic
who is making his return to the team.
Djekic
already played for Kumanovo in seasons 2014-2015 and 18-19. He has some experience playing for different teams in his career with of course most notable being his period in Partizan between 2009 and 2013. His last team was Spars Sarajevo with which he won the Bosnian cup in 2020.
Djekic
will be able to play against Teodo and Ibar in the next two days. The same is valid for Jovan Crnic who missed some time but is now back in the roster and will try to help Kumanovo. The North Macedonian team is with 3 wins and 4 losses in the competition but with three games left, has real chances of advancing further.
News
Next Game
03 Mar 2021
17.00LIVE
YouTube
KK Kumanovo 2009
BC Akademik Plovdiv


Sports Hall Pero Nakov
Referees:
Stelios Symeonides
Diamantis Lortos
Ioannis Bakalis
Commissioner:
Georgios Tanatzis
Schedule
Kumanovo | Sports Hall Pero Nakov

03 Mar 2021 17.00
KK Kumanovo 2009
LIVE
BC Akademik Plovdiv
YouTube

Stara Zagora | Obshtinska

08 Mar 2021
BC Beroe
LIVE
Hapoel Gilboa Galil B.C.

Skopje | SC Kale

10 Mar 2021
KK TFT
LIVE
Hapoel Gilboa Galil B.C.

Kumanovo | Sports Hall Pero Nakov

12 Mar 2021
KK Kumanovo 2009
LIVE
Hapoel Holon B.C.
Sport 5, YouTube

Gan Ner | Gan Ner

16 Mar 2021
Hapoel Gilboa Galil B.C.
LIVE
KK TFT
Sport 5, YouTube

Gan Ner | Gan Ner

18 Mar 2021
Hapoel Gilboa Galil B.C.
LIVE
BC Beroe
Sport 5, YouTube
All times are local time