Kumanovo and Beroe to decide the second place in Group E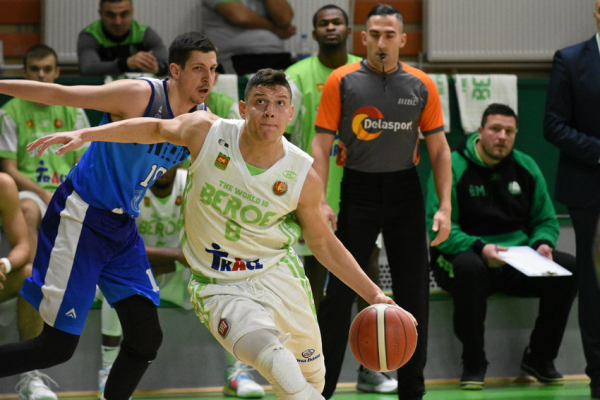 Stoyanov will miss the game tonight
03-02-2021 | 09:21
The last game of the First Stage of Delasport Balkan League will be played today. Starting at 17.00 hrs local time, KK
Kumanovo
2009
will host BC
Beroe
. The match, as usual, will be broadcast LIVE on Delasport Balkan League's YouTube channel.
The game is important as it will decide which team will finish second in Group E. That at the end may no matter but in case that Kumanovo and Beroe are drawn in the same group in the next stage, that the team which finished higher will have the advantage of playing the second game between the teams at home.
Kumanovo will have an advantage as not only the team is hosting the game but also will have its full roster. Last week the team showed that with the new additions in Livingston and Djekic, and with the good performances of Andrejevic, Markovski and some of the others, it has an improved roster and is a threat to every team. On the other hand Beroe is coming to Norh Macedonia missing a lot of players. A total of six will not be available to head coach Lubo Minchev due to injuries or fatigue - Cadarian Raines, Nikolay Stoyanov, Kaleb Bishop, Derick Jeanc, Brady Rose and Kostadin Lazarov. Over the weekend the team had a game with four overtimes and that also contributed to all the problems.
Whatever happens, both teams are already qualified for the Second Stage as at the moment have the identical 5-4 record and will finish in the top 3 of the group.
News
Next Game
12 Mar 2021
20.00LIVE
Sport 5, YouTube
KK Kumanovo 2009
Hapoel Holon B.C.

| | |
| --- | --- |
| Sports Hall Pero Nakov | Referees: |
Schedule
Kumanovo | Sports Hall Pero Nakov

12 Mar 2021 20.00
KK Kumanovo 2009
LIVE
Hapoel Holon B.C.
Sport 5, YouTube

Gan Ner | Gan Ner

16 Mar 2021
Hapoel Gilboa Galil B.C.
LIVE
KK TFT
Sport 5, YouTube

Plovdiv | Complex Sila

17 Mar 2021
BC Akademik Plovdiv
LIVE
KK Kumanovo 2009
YouTube

Gan Ner | Gan Ner

18 Mar 2021
Hapoel Gilboa Galil B.C.
LIVE
BC Beroe
Sport 5, YouTube

Holon | Toto Arena

25 Mar 2021
Hapoel Holon B.C.
LIVE
BC Akademik Plovdiv
Sport 5, YouTube

Stara Zagora | Obshtinska

31 Mar 2021
BC Beroe
LIVE
KK TFT
YouTube
All times are local time