Shay Shtriks: We managed to had 56 games so far because all of us love basketball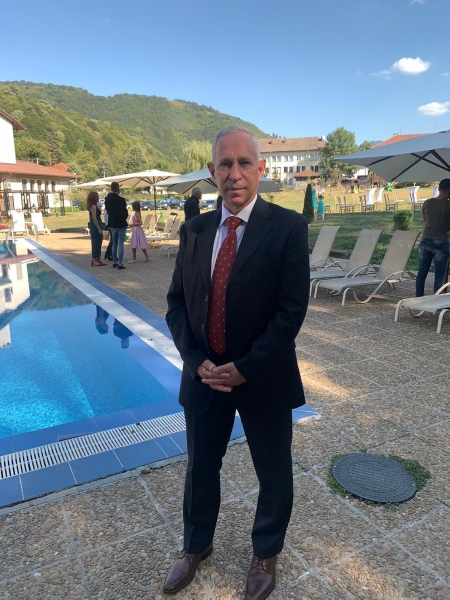 04-02-2021 | 10:25
Following the end of the First Stage of Delasport Balkan League, the Sports Director of the competition - Mr.
Shay Shtriks
issued the following statement in order to thank all people involved so far in the season:
"Last night Stage 1 of Delasport Balkan League, season 2020/2021, finished and on Friday we'll have the draw for the Second Stage.A total of 56 games were played between October 2020 and February 2021. We had 26 in the Israeli groups and 30 in the Balkan group. We managed to do this in such a difficult time of COVID-19 pandemic only because all of us love the game of basketball.With the following I want to express a big salute to all the coaches, players, team members, referees, commissioners, Delasport BIBL staff, LIVE statistics staff, LIVE streaming staff, TV channels crews and to everybody that supports the league so we could have those 56 games until now. It was not obvious at all to play 56 games in this period of time but it was done only because all of us managed to cooperate and support each other.I would like to congratulate the six teams which qualified for the Second Stage and send a BIG thank you to the others. I hope to see them in the next season of Delasport Balkan League. We are going to have 12 games in Stage 2 and 4 more games in the Final Four. All those matches will be played in March and April and I know that with the same good cooperation and desire from all involved, we'll finish season 20/21 in the most prestigious way.Thank you again and see you soon!"
News
Next Game
12 Mar 2021
20.00LIVE
Sport 5, YouTube
KK Kumanovo 2009
Hapoel Holon B.C.

| | |
| --- | --- |
| Sports Hall Pero Nakov | Referees: |
Schedule
Kumanovo | Sports Hall Pero Nakov

12 Mar 2021 20.00
KK Kumanovo 2009
LIVE
Hapoel Holon B.C.
Sport 5, YouTube

Gan Ner | Gan Ner

16 Mar 2021
Hapoel Gilboa Galil B.C.
LIVE
KK TFT
Sport 5, YouTube

Plovdiv | Complex Sila

17 Mar 2021
BC Akademik Plovdiv
LIVE
KK Kumanovo 2009
YouTube

Gan Ner | Gan Ner

18 Mar 2021
Hapoel Gilboa Galil B.C.
LIVE
BC Beroe
Sport 5, YouTube

Holon | Toto Arena

25 Mar 2021
Hapoel Holon B.C.
LIVE
BC Akademik Plovdiv
Sport 5, YouTube

Stara Zagora | Obshtinska

31 Mar 2021
BC Beroe
LIVE
KK TFT
YouTube
All times are local time