Group F preview: BC Beroe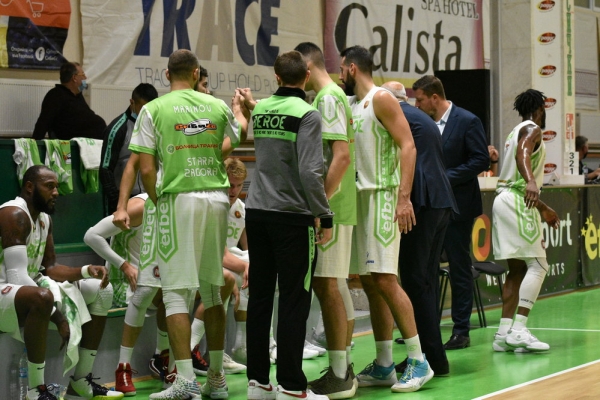 13-02-2021 | 14:37
BC Beroe
will be in Group F of Delasport Balkan League. The Stara Zagora team finished third in Group E with 5 wins and 5 losses and then was drawn with
Hapoel Gilboa Galil
and KK
TFT
. The team will start its matches on February 24th visiting KK
TFT
.
Beroe had some ups and downs in the First Stage of the competition having some good and some bad games. The team started by losing three of its first four games, then went on a four game home winning streak before losing the final two away. Those ups and downs are what characterizes the season so far so hopefully for Beroe, that will change in Stage 2.
Beroe had four wins at home and two times the team topped 100 points. The other two they scored 99 and 74 respectively but also lost twice to Akademik Plovdiv by a single point. Perhaps the most impressive was against KK Kumanovo 2009 which was just fresh of winning in Plovdiv. With its opponent in Stage 2, Beroe exchanged wins so that is something to watch out for in the future matches.
Despite all the ups and downs, Beroe has a deep roster with some really experienced players. 7 of the team's players are averaging more than 10 points per game in the competition which goes to say that the offense hasn't been a problem. It's also fair to say and in most of its losses, Beroe didn't have its full roster due to different reasons so once the team is at full strength, things can certainly look better.
Derric Jean
has been the top scorer for the team with 15.8 points in 5 games played. He is followed by Brady Rose with 13.9 points, missing just one game, while Simeon Iliev is third with 13.5 points playing all 10 matches. The others averaging double figures are
Cadarian Raines, James Gavin, Nikolay Stoyanov
and
Pavel Marinov
. Adding to them
Stanislav Vaklinov
, who is one of the most experienced players in BIBL history. and will can see that Beroe has a talented team and a lot that can be shown on the court. Whether that'll happen, we'll have to wait a bit more to see...
By clicking on the link below, you can check all the results and the schedule of BC Beroe for the Second Stage. You can also watch the replay of the win over KK Kumanovo 2009 which was the last one in Stage 1:
RESULTS AND SCHEDULE OF BC BEROE



News
Next Game
12 Mar 2021
20.00LIVE
Sport 5, YouTube
KK Kumanovo 2009
Hapoel Holon B.C.

| | |
| --- | --- |
| Sports Hall Pero Nakov | Referees: |
Schedule
Kumanovo | Sports Hall Pero Nakov

12 Mar 2021 20.00
KK Kumanovo 2009
LIVE
Hapoel Holon B.C.
Sport 5, YouTube

Gan Ner | Gan Ner

16 Mar 2021
Hapoel Gilboa Galil B.C.
LIVE
KK TFT
Sport 5, YouTube

Plovdiv | Complex Sila

17 Mar 2021
BC Akademik Plovdiv
LIVE
KK Kumanovo 2009
YouTube

Gan Ner | Gan Ner

18 Mar 2021
Hapoel Gilboa Galil B.C.
LIVE
BC Beroe
Sport 5, YouTube

Holon | Toto Arena

25 Mar 2021
Hapoel Holon B.C.
LIVE
BC Akademik Plovdiv
Sport 5, YouTube

Stara Zagora | Obshtinska

31 Mar 2021
BC Beroe
LIVE
KK TFT
YouTube
All times are local time