Group G preview: Hapoel Holon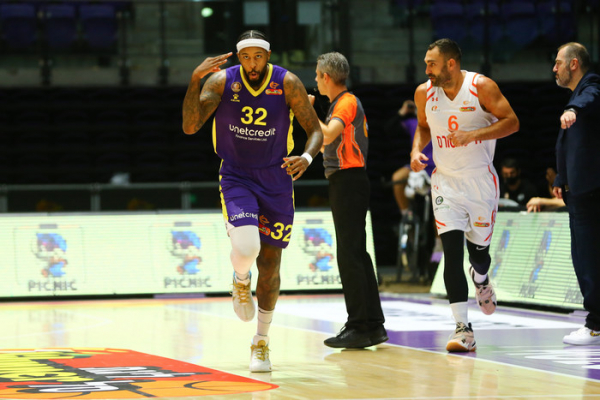 Miles is doing very well so far for Hapoel
16-02-2021 | 19:43
Hapoel Holon
is the second Israeli team that qualified for the Second Stage of Delasport Balkan League. The team cruised through Stage 1 of the competition without losing a game and then in the Semifinal round managed to defeat Hapoel SP Tel Avuv to qualify further. Moreover Hapoel is also playing in the Champions League and is has reached the next stage there as well, so that means that the team will be quite busy.
Hapoel
finished first in Group C in the company of Ironi Hai Motors Ness Ziona and Hapoel Yossi Avrahami Eilat. The team showed a great offensive performance in all four of its games by scoring 94 points twice, 100 once and 105 in its last game. Then against Hapoel Tel Aviv just 77 points were enough to get them to the next stage.
Now it's
Hapoel
Holon
which will open the Second Stage of Delasport Balkan League. On February 23rd the team will host KK Kumanovo 2009 and with this game the battle for the Final Four will begin. Hapoel's last match will be in Plovdiv against Akademik on April 8th.
Head coach
Stefanos
Dedas
has a team with very good quality at his disposal and that is shown on the court. As it's always the case with teams such as Hapoel, there is a good mix of foreign and local players.
Isaiah Miles
has been the team's top scorer averaging 14.0 points. Adding to him
Chris Johnson
with 13.4 points and 6.8 rebounds, Tyrus McGee with 13.2 points and
Calvin Harris
with 12.8 and we can see that there are a lot of options for putting the ball in the basket.
Also Bourdillon
and
De Zeeew
who joined later are helping with their performance and experience and that once again confirm the deep roster Hapoel has which makes the team a really dangerous one.
Hapoel can be happy as an organization with what it has achieved so far in the competition. The team showed that it's an ambitious one and the fact that they are fighting for so many trophies, is confirming that. Whether Hapoel will be able to go all the way, only time will tell but one thing is clear - the team has the ambition and the quality to do it all.
By clicking on the link below you can check all the results Hapoel Holon had in Stage 1 and also the schedule of the team for Stage 2. You can also watch again highlights from the team's win over Hapoel Tel Aviv which was the one that qualified them for the next stage:
HAPOEL HOLON RESULTS AND SCHEDULE FOR STAGE 2
News
Next Game
12 Mar 2021
20.00LIVE
Sport 5, YouTube
KK Kumanovo 2009
Hapoel Holon B.C.

| | |
| --- | --- |
| Sports Hall Pero Nakov | Referees: |
Schedule
Kumanovo | Sports Hall Pero Nakov

12 Mar 2021 20.00
KK Kumanovo 2009
LIVE
Hapoel Holon B.C.
Sport 5, YouTube

Gan Ner | Gan Ner

16 Mar 2021
Hapoel Gilboa Galil B.C.
LIVE
KK TFT
Sport 5, YouTube

Plovdiv | Complex Sila

17 Mar 2021
BC Akademik Plovdiv
LIVE
KK Kumanovo 2009
YouTube

Gan Ner | Gan Ner

18 Mar 2021
Hapoel Gilboa Galil B.C.
LIVE
BC Beroe
Sport 5, YouTube

Holon | Toto Arena

25 Mar 2021
Hapoel Holon B.C.
LIVE
BC Akademik Plovdiv
Sport 5, YouTube

Stara Zagora | Obshtinska

31 Mar 2021
BC Beroe
LIVE
KK TFT
YouTube
All times are local time