Group G preview: KK Kumanovo 2009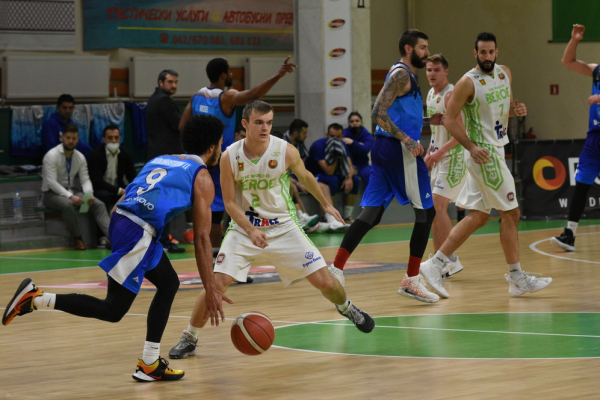 Otis Livingston played a key role for Kumanovo
18-02-2021 | 17:52
The preview of Group G will end with KK
Kumanovo
2009
. The North Macedonian side finished strong Stage 1 of Delasport Balkan League and will be fighting for the Final Four with Hapoel Holon and BC Akademik Plovdiv.
Kumanovo
finished Stage 1 in second place winning four out of its last five games. The team started slow due to problems with the roster and some COVID-19 related issues. Few moves on the market though really changed the fate of the team as the additions of some players were key to the team's qualification. Kumanovo is the only team which managed to defeat Akademik in Stage 1 so that probably will lead them to play with bigger confidence when the two sides meet again. The most important win came however against KK Teodo on January 26th when they beat Teodo away to pave the way for a Top 4 finish.
The two additions that changed Kumanovo's fortunes after the at the start of January are those of
Otis Livingston
and
Branislav
Djekic
. The American especially performed really well and it wasn't a coincidence that he was named Delasport BIBL MVP for January. In five games he averaged 18.6 points and 6.2 assists while Djekic had 14.7 points and 5.3 rebounds in his three matches. Other than them Kumanovo had also the double-double machine
Aleksandar Andrejevic
with 14.9 points and 8.7 rebounds,
Gorjan
Markovski
with 12.9 points and
Corey Raley-Ross
with 15.2 points in six games, and we can see that Kumanovo has a lot of scoring options. The likes of Crnic, Robev, Cvetkovski and Zivcevic also played their important part in different games and are another testament to the fact that Kumanovo is really a strong and quality team with really big ambitions.
The team started the season with one coach but then the assistant Igor Gjorgjievski took over. He is the one who led to Stage 2. He is still quite inexperience on that level but there's no doubt that the excitiment will be big so he and his players will try to make sure that this doesn't affect them. Kumanovo is an interesting team and if they managed to keep their good form from January, then it's clear that it will also be a dangerous squad.
By clicking on the link below you can check the results of KK Kumanovo 2009 from Stage 1 and the schedule for Stage 2. You can also watch again the game against Teodo which was key for the team's qualification:
KK KUMANOVO 2009 RESULTS AND SCHEDULE FOR STAGE 2
News
Next Game
12 Mar 2021
20.00LIVE
Sport 5, YouTube
KK Kumanovo 2009
Hapoel Holon B.C.

| | |
| --- | --- |
| Sports Hall Pero Nakov | Referees: |
Schedule
Kumanovo | Sports Hall Pero Nakov

12 Mar 2021 20.00
KK Kumanovo 2009
LIVE
Hapoel Holon B.C.
Sport 5, YouTube

Gan Ner | Gan Ner

16 Mar 2021
Hapoel Gilboa Galil B.C.
LIVE
KK TFT
Sport 5, YouTube

Plovdiv | Complex Sila

17 Mar 2021
BC Akademik Plovdiv
LIVE
KK Kumanovo 2009
YouTube

Gan Ner | Gan Ner

18 Mar 2021
Hapoel Gilboa Galil B.C.
LIVE
BC Beroe
Sport 5, YouTube

Holon | Toto Arena

25 Mar 2021
Hapoel Holon B.C.
LIVE
BC Akademik Plovdiv
Sport 5, YouTube

Stara Zagora | Obshtinska

31 Mar 2021
BC Beroe
LIVE
KK TFT
YouTube
All times are local time