Quotes after the game BC Akademik Plovdiv - Hapoel Holon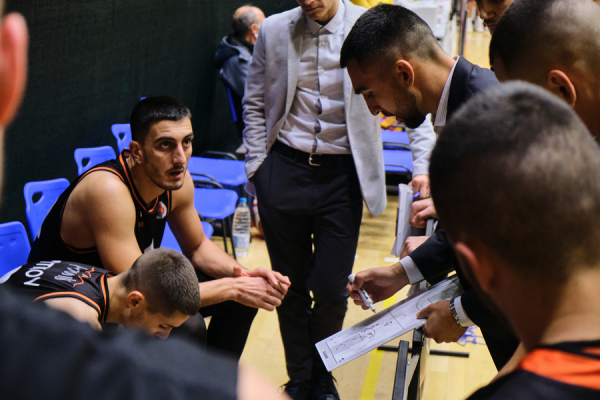 09-04-2021 | 09:05
Hapoel Holon defeated BC Akademik Plovdiv away to finish first in Group G of Delasport Balkan League. Here are some quotes once the game was over:
Yordan Yankov, head coach of BC Akademik Plovdiv
: "I would like to congratulate my players who played hard and tried to give their 100%. We made some mistakes as well. This game turned out to be in a tough period for us but I don't want to use it as an excuse. We had a game the day before, Vucica and Carson didn't play, other players had injury problems and we have another important clash on Saturday. I'm happy however that the younger players managed to feel that level of European basketball which should be our main goal. The Final 4 will be between the playoffs in Bulgaria but the most important thing is for the competition to finish and next season there will be more options for better schedule of the game. All those matches are useful for us. The difference between us and Hapoel is not as the scoreboard in this match showed."
Anthony Gugino, player of BC Akademik Plovdiv
: "It's a hard week for us. This was our third game and we have one more. We also have injured players and were a bit tired. Apoel is a really strong and experienced team. These are the main reasons for our defeat. All those games with strong opponents are useful for us, especially for the younger players in the roster. I think the the Balkan League helps us also for the games in Bulgarian league. We have a lot of chances to play in the final of the competition."
Stefanos Dedas, head coach of Hapoel Holon
: "We had a serious attitude towards this game as we had more time to prepare for it. We wanted to show our respect for the opponent and to show our best. We started serious from the start, there was no underestimation like in the first meeting. That way we also managed to finish the game with calm. There are good players in the Balkan League teams but the financial possibilities don't allow them to attract better foreign players and this is necessary in order to raise the level. We have six Americans. Our budget is lower than the last season but we made a better roster and the chemistry in the team is much improved. I think that an Israeli team will win the league and hopefully it will be us."
Nathan Sestina, player of BC Akademik Plovdiv
: "We were more nervous the first time, now we were more focused and that's why we won. The trip was hard but we managed to recover. We played with good mood, despite those problems. To me the games in this competition are useful as I don't care who I play against, I just want to play professional basketball. We don't have priorities - every game is important. The Balkan League is just one more opportunity for us to show our qualities.
News
Next Game
No Games Scheduled