We present: Delasport Balkan League team of the season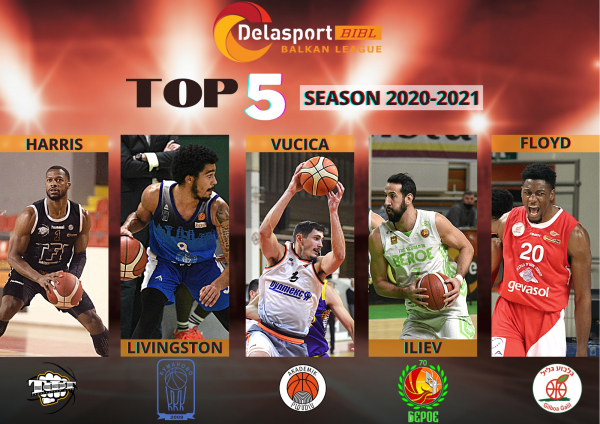 16-04-2021 | 15:57
As the first two stages of Delasport Balkan League are over, all the focus now is towards the Final 4 of the competition. A total of 68 games were played so far and a lot of players took part in them. There were some great individual performances in a certain number of games and there were also players who performed consistently throughout both stage and contributed to their team's successes. Below you can find Delasport Balkan League's choice for the Best 5 players of Season 2020/2021:
Guards:
Tyron Harris
(KK TFT) - there's no doubt that without Harris, his team would've had a very hard time of reaching Stage 2 of the competition. TFT did it in its last game of the First Stage and then lost all four matches in the Second. One player stood above all the others and it's Harris. He played a total of 14 games and averaged 18.6 points, 7.5 assists and 3.8 rebounds for an efficiency rating of 20.3. Harris proved himself as a player on a good level and impressed with his performances. He didn't reach double figures in just two games - finishing both times with 8 points, and in all the others was doing well. His best performance came in the overtime defeat to Akademik Plovdiv where he finished with 29 points, 9 assists and 5 rebounds while his highest scoring game was against Ibar in Rozaje finishing with 30 points.
Otis Livingston
(KK Kumanovo 2009) - although Livingston played just 8 games this season, there's no question that his arrival changed the performance of his team. After the American joined the roster, Kumanovo went on a run that allowed the team to finish second in Stage 1 and then to give a fight in Stage 2. Although the North Macedonian side didn't record a single win in it, they were close in three of the four games and even had a chance to defeat Hapoel in Holon. Livingston missed just one game - at home against Akademik in Stage 2, and it influenced his team's performance. Overall Livingston averaged 18.0 points, 6.1 assists and 3.3 rebounds for efficiency rating of 20.9. The American's best performance came in the last match against Hapoel where he finished with 29 points and 14 assists for an efficiency rating of 37.
Forwards
:
Jere Vucica
(BC Akademik Plovdiv) - all season Akademik was one of the most consistent teams and it impressed with a good team play. That's why it's hard to single just one player but if it has to be done it's for sure Jere Vucica. The Croatian quickly became one of the most important in the rotation and was a key for the team's success. Akademik won its group in Stage 1 and thanks to good matches in Stage 2, qualified for the Final 4. Vucica contributed with 12.5 points and 6.2 rebounds in 13 game for an efficiency rating of 15.5. His best performance was early in the season when he finished with 23 points and 9 rebounds in the win against Ibar in Rozaje. The Croatian however had the most memorable moment in the last game of Stage 1 when he scored in the last second to give Akademik the win over Beroe.
Simeon Iliev
(BC Beroe) - in a season of ups and downs for Beroe, it's important for the team having reached the Final 4 of Delasport Balkan League. One of the few consistent players throughout the competition so far was Iliev. The forward played in all the 14 games the team had and contributed for his team's wins. Iliev had averages of 11.0 points, 4.9 rebounds and 1.9 assists as he was a key part of Lubo Minchev's tactical ideas. The forward was not always the best scorer but was able to contribute in a lot of different ways which are not always shown in the boxscore. Still, his best scoring game was against KK Kumanovo in the first days of February when he finished with 23 points but he had his best efficiency rating against Teodo after 15 points, 5 rebounds and 5 assists gave him a rating of 24.
Jehyve Floyd
(Hapoel Gilboa Galil) - it's hard to single out one player when it's the team performance that got you so far in the competition. It's not a coincidence however that in the team's only loss of the season so far, Floyd had his worst game finishing with just 6 points against Beroe. In the other seven games he played though, the American forward was always a factor down low and contributed a lot for having Hapoel so far ahead in BIBL. Floyd averaged a total of 12.0 points and 5.4 rebounds which gives him an efficiency rating of 15.5. His best game came at the most important moment - when Hapoel defeated Maccabi Rishon LeZion and qualified for Stage 2. Floyd finished with 17 points and 8 rebounds for a rating of 22. There's no doubt that for Hapoel to have success in the Final 4, the American forward needs to be on top of his game just like he was so far during the season.
Honorable mention
:
Petar Kusovac
(KK Teodo) - since his team didn't qualify for Stage 2, Kusovac had no chance of being chosen between the 5 best players of the season. He deserves to be mentioned due to the performance he had on December 22nd 2020 at home against KK TFT. In his team's win the Montenegrin finished with 46 points which is now the all-time record in the competition. That's why Delasport Balkan League wanted to once again underline that performance by Kusovac who was also the top scorer of the league.
News
Next Game
No Games Scheduled