Nikola Pekovic is the new President of Montenegrin Basketball Federation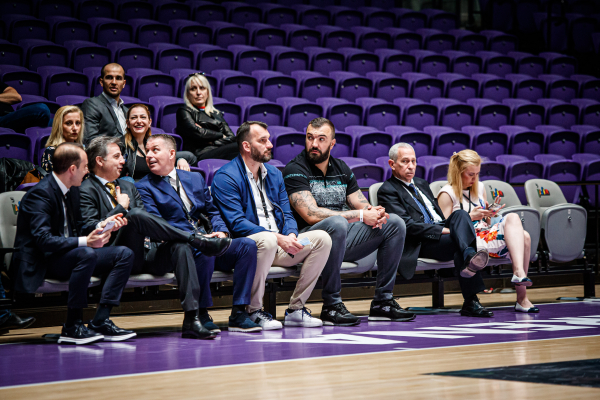 26-05-2021 | 16:44
Delasport Balkan League would like to congratulate Mr. Nikola Pekovic for being officially elected as the new President of the Montenegro Basketball Federation
.
He was unanimously appointed on the General Assembly Meeting which took place оn 24th May in Podgorica,
inheriting the position of Mr. Veselin Barovic and getting his unconditional support
. Mr. Barovic himself will of course remain in service to the Montenegrin basketball as Chairman of the Federation Board.
Pekovic began his playing career in Europe (Atlas, Avala Ada, Partizan, Panathinaikos) before spending seven years with the Minnesota Timberwolves of the NBA. Euroleague champion (2009), Greek League champion (2009, 2010) and Cup winner (2009), Adriatic League (2007, 2008) and Serbian League (2007, 2008) champion, Serbian Cup winner (2008), YUBA League champion (2006). He also represented the Montenegrin senior National team at the EuroBasket 2011 in Lithuania.
Nikola Pekovic was recently special guest to Delasport Balkan League FINAL FOUR 2021 in Holon
where he met with Mr. Shay Shtriks - Sports Director, Mr. Amiram Halevi - Israeli Basketball Association President, Mr. Shmuel Fenkel - Israeli Winner League CEO and discussed further cooperation in favour of the development of the Balkan basketball.
Delasport Balkan League hereby expresses special gratitude to Mr. Barovic and Mr. Popovic for the long-term cooperation between BIBL and Montenegro Basketball Federation
, hoping that this special friendship-relationship will be continued and even developed in the face of the new management.
As preparations for season 2021-2022 already started
, Delasport BIBL will stay in touch with Mr. Pekovic and his new crew in order to discuss and select the Montenegrin representatives in the competition new season.
News
Next Game
21 Mar 2023
CANC
BC Budivelnyk Kyiv
KB Peja
Schedule
Sofia | Triaditsa Hall

21 Mar 2023 CANC
BC Budivelnyk Kyiv
KB Peja

Sofia | Triaditsa Hall

23 Mar 2023 CANC
BC Budivelnyk Kyiv
BC Beroe

Beer Sheva | Noam Khayim Sport Complex

28 Mar 2023
Hapoel Altshuler Shaham Beer Sheva/Dimona
KB Bashkimi

Beer Sheva | Noam Khayim Sport Complex

28 Mar 2023
Hapoel Altshuler Shaham Beer Sheva/Dimona
KB Bashkimi

Veroli | Pala Coccia

28 Mar 2023 CANC
BC Budivelnyk Kyiv
BC Levski 2014

Veroli | Pala Coccia

30 Mar 2023 CANC
BC Budivelnyk Kyiv
Hapoel Altshuler Shaham Beer Sheva/Dimona
All times are local time