The draw for Stage 1 of Delasport Balkan League has been made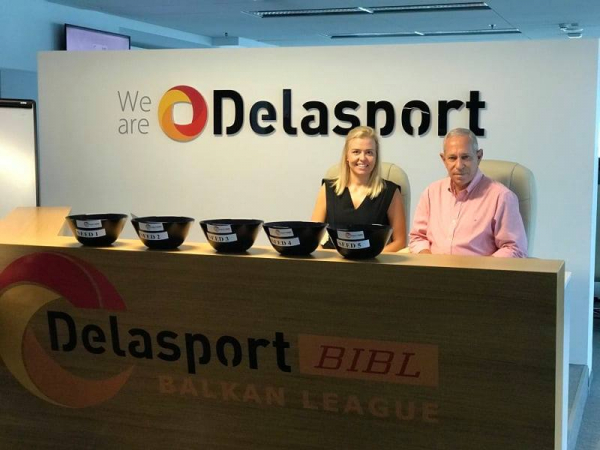 26-08-2021 | 13:23
Today, the draw for Stage 1 of Delasport Balkan League was made. In the Delasport office in Sofia, the ten teams were divided in two groups for the upcoming season.


Below you can see the results of the draw:

Group A
Hapoel Nufar Energy Galil Elion (Israel)
BC Balkan (Bulgaria)
KK Kumanovo 2009 (North Macedonia)
KK Navico Akademija FMP (North Macedonia)
KB Peja (Kosovo)

Group B
Ironi Rain Nahariya (Israel)
BC Akademik Plovdiv (Bulgaria)
KK TFT Skopje (North Macedonia)
BC Beroe (Bulgaria)
KB Sigal Prishtina (Kosovo)

The opening games of Delasport Balkan League will be played in Israel on October 12th with Hapoel Nufar Energy Galil Elion as the host and then on October 13th with Ironi Nahariya as the home team.


News
Next Game
19 Oct 2021
19.00
YouTube
KK TFT
KB Sigal Prishtina


SC Kale
Referees:
Aleksandar Pavlov
Constantinos Poursanidis
Stavros Evfraimidis
Commissioner:
Aleksandar Milojevic
Schedule
Skopje | SC Kale

19 Oct 2021 19.00
KK TFT
KB Sigal Prishtina
YouTube

Plovdiv | Complex Sila

20 Oct 2021 18.00
BC Akademik Plovdiv
BC Beroe

Prishtina | Pallati i Rinise dhe Sporteve

25 Oct 2021
KB Sigal Prishtina
BC Beroe

Skopjie | Nezavisna Makedonija

26 Oct 2021
KK Navico Akademija FMP
Hapoel Nufar Energy Galil Elion

Skopje | SC Kale

27 Oct 2021
KK TFT
BC Akademik Plovdiv

Rozaje | Sportski Centar

27 Oct 2021
KK Ibar Rozaje
BC Beroe
All times are local time