Season preview: Group A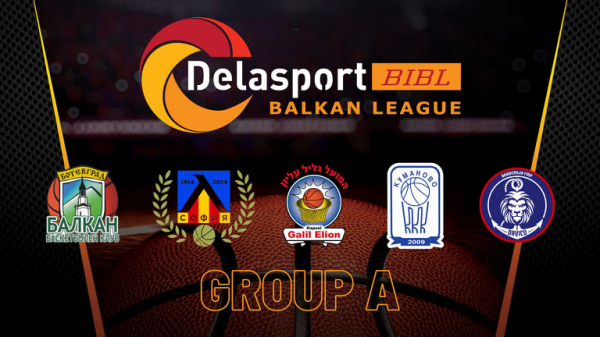 12-10-2021 | 09:57
We are hours away from the start of the new season in Delasport Balkan League. 11 teams will take part in the competition as they will battle for the trophy at the end of April next year. Before the start of the first games, we are offering you a preview for both groups. We are starting with Group A which will consist of 5 teams as KB Peja was taken out last week. Four of the five teams will continue to Stage 2 so let's see who's going to be fighting for those spots:
BC Balkan
It's a return for the Botevgrad team after 7 years of absence. The team in recent years is always one with a great ambition and that won't chance this season. The Greens are always a dangerous opponent and will be fighting for a Final 4 spot. The Bulgarian champions from 2019 are going to try to reach as far as possible and as usual, playing in Botevgrad is hard, especially when the fans are back in the gym.
BC Levski 2014
The Blues from Sofia are also returning to the competition after winning it in 2018. They are the current champions of Bulgaria but were left by their main sponsor so the first few weeks should be a bit harder. Nevertheless the roster has some quality players and some of them have a lot of experience in the Balkan League. They are an opponent which will give hard time to anybody so it won't come as a surprise if we see The Blues fighting for a place in the Final 4.
Napoel Nufar Energy Galil Elion
One of the debutants in the competition is a team which will look to go all the way. As usual for the Israeli squads, there is a good mix of American and local players which means a good roster. Hapoel will look to continue the tradition of Israeli teams in BIBL who have won all but one of the seasons in which they took part in. The ambition is here, the roster is an interesting one so it remains to be seen what will happen on the court.
KK Kumanovo 2009
One of the storied teams in Delasport Balkan League is once again here. The team is difficult one to play against, especially when playing at home so Kumanovo will be looking to exploit that. The North Macedonian side has signed some experienced players and they'll be looking to use that to their advantage in order to reach Stage 2.
KK Navico Akademija FMP
Another new team in the league comes from North Macedonia. FMP relies a lot on young players and that is the main goal for the team's participation in the league - get them more playing experience against more quality opponents. Being in such a group gives them a great opportunity to do so so they'll be looking to take full advantage of that. Of course FMP is going to be a team that will try and play hard and whether they'll be able to surprise some of the other teams remains to be seen.
News
Next Game
30 Nov 2021
19.00
Hapoel Nufar Energy Galil Elion
KK Navico Akademija FMP


Sports Hall
Referees:
Ognjen Jokic
Daut Mehmeti
Ioannis Agrafiotis

Schedule
Kfar Blum | Sports Hall

30 Nov 2021 19.00
Hapoel Nufar Energy Galil Elion
KK Navico Akademija FMP

Sofia | Universiada

01 Dec 2021 17.30
BC Levski 2014
BC Balkan
YouTube, BTVnovinite.bg

Nahariya | Ein Sara

01 Dec 2021 19.00
Ironi Rain Nahariya
LIVE
BC Akademik Plovdiv
Sport 5, YouTube

Rozaje | Sportski Centar

02 Dec 2021 17.00
KK Ibar Rozaje
KK TFT
YouTube

Haifa | Romema Arena

02 Dec 2021 19.40
Maccabi Next Urban Haifa
KK Navico Akademija FMP
Sport 5, YouTube

Sofia | Universiada

06 Dec 2021
BC Levski 2014
KK Navico Akademija FMP
All times are local time