Strong start gives Hapoel Galil Elion the win in the Opening game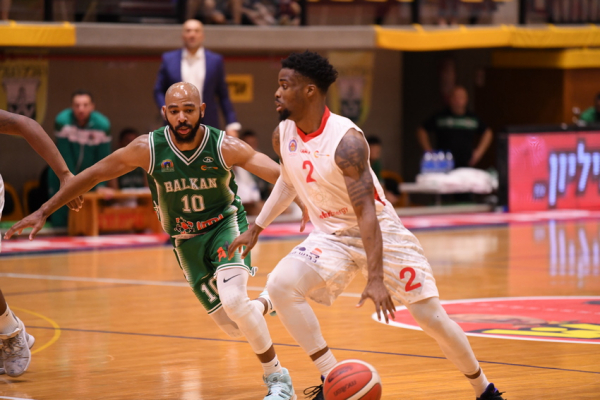 12-10-2021 | 19:51
The new season in Delasport Balkan League started tonight. In the Opening game
Hapoel Nufar Energy Galil Elion
defeated BC
Balkan 56-45
thanks to a strong start. The home side led from start to finish and once it built a double-digit advantage, controlled the game until the end. The visitors never threathened their opponents although they never stopped trying but it wasn't meant to be in a really low scoring affair. Hapoel will travel to North Macedonia to play KK Navico Akademija FMP on October 26th while Balkan's next game is on November 3rd against Levski.
The hosts started really well and scored the first 11 points of the game. Throught the first quarter they were dominating as Nimrod Levi was unstoppable under the basket with 12 points and 100% shooting. After ten minutes Hapoel was up by 18 points and early in the second the difference reached 22. The visitors responded with a 10-0 run of their own to finally get something going but it was the closest they came in the first half. Hapoel managed to answer right back and were up by 17 points after 20 minutes of play. In the second half things didn't change much. THe home side was controlling its advantage while The Greens came twice to just 9-points deficit but missed chances to cut it even further. Generally both teams were missing a lot of shots and at the end Hapoel held on for the win.
Nimrod Levi
was the top performer for the home team as he finished with 18 points and 8 rebounds.
Gabriel Chachashvili
also did well by adding 10 and 6 while
Chavaughn
Lewis
had 8 points, 7 assists and 5 rebounds.
Derrick Marks
was the only player in double figures by scoring 12 points but he shot 6 of 18 from the field.
Kris Minkov
and
Alihan Demir
scored 8 points each.
BOXSCORE
News
Next Game
30 Nov 2021
19.00
Hapoel Nufar Energy Galil Elion
KK Navico Akademija FMP


Sports Hall
Referees:
Ognjen Jokic
Daut Mehmeti
Ioannis Agrafiotis

Schedule
Kfar Blum | Sports Hall

30 Nov 2021 19.00
Hapoel Nufar Energy Galil Elion
KK Navico Akademija FMP

Sofia | Universiada

01 Dec 2021 17.30
BC Levski 2014
BC Balkan
YouTube, BTVnovinite.bg

Nahariya | Ein Sara

01 Dec 2021 19.00
Ironi Rain Nahariya
LIVE
BC Akademik Plovdiv
Sport 5, YouTube

Rozaje | Sportski Centar

02 Dec 2021 17.00
KK Ibar Rozaje
KK TFT
YouTube

Haifa | Romema Arena

02 Dec 2021 19.40
Maccabi Next Urban Haifa
KK Navico Akademija FMP
Sport 5, YouTube

Sofia | Universiada

06 Dec 2021
BC Levski 2014
KK Navico Akademija FMP
All times are local time