Akademik overcomes a bad first quarter to spoil Sigal Prishtina's return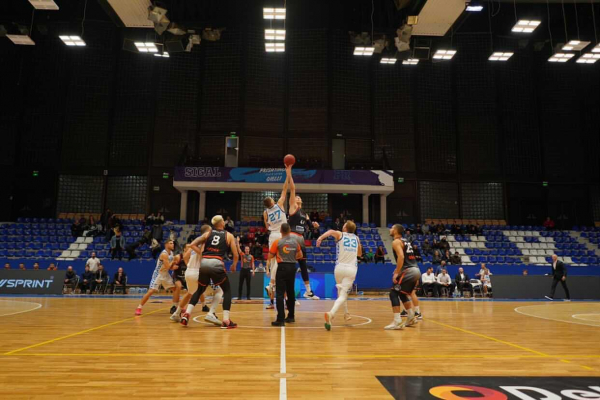 12-10-2021 | 22:02
Delasport BIBL runner-up from last season -
Akademik Plovdiv,
started the new season with a win. In a Group B game the team overcame a slow start and defeated KB
Sigal Prishtina
94-85
to spoil the Kosovo team's return to the competition after four years. The home side did very well early and were up by double digits for the first 15 minutes but then Akademik started performing better and came away with the win. Now the Plovdiv team will travel to Rozaje to meet Ibar on Thursday while next week Sigal will visit KK TFT in Skopje.
Both teams exchanged baskets early but after the middle of the first quarter the hosts managed to pull away. They did so thanks to a 9-0 run which gave them 11-point advantage. At the end of the period the difference was 12 and then the team continued to have a good lead. It reached 14 points near the middle of the second quarter but then Akademik answered with 12-0 to close the gap. Then the teams exchanged baskets and at the break the difference remained 2 points.
Near the middle of the third quarter the visitors made an 11-2 run which put them up by 5 points. They managed to keep the advantage as in the following minutes they controlled the score and were ahead by 7 points after 30 minutes. In the final ten the hosts tried hard but Akademik didn't allow them to threathen and at the end celebrated with the victory.
Tomislav
Minkov
had a great game for the winners and finished with 26 points while missing just 2 from 13 shots.
Vasil
Bachev
did well as usual adding 15 points while
Nemanja Besovic
and
Nikolay Nikolov
(10 rebounds) had 14 apiece.
The hosts were led by
Dachon
Burke
who had 26 points while
Lejson Zeqiri
finished with 21 and 8 rebounds.
BOXSCORE
News
Next Game
30 Nov 2021
19.00
Hapoel Nufar Energy Galil Elion
KK Navico Akademija FMP


Sports Hall
Referees:
Ognjen Jokic
Daut Mehmeti
Ioannis Agrafiotis

Schedule
Kfar Blum | Sports Hall

30 Nov 2021 19.00
Hapoel Nufar Energy Galil Elion
KK Navico Akademija FMP

Sofia | Universiada

01 Dec 2021 17.30
BC Levski 2014
BC Balkan
YouTube, BTVnovinite.bg

Nahariya | Ein Sara

01 Dec 2021 19.00
Ironi Rain Nahariya
LIVE
BC Akademik Plovdiv
Sport 5, YouTube

Rozaje | Sportski Centar

02 Dec 2021 17.00
KK Ibar Rozaje
KK TFT
YouTube

Haifa | Romema Arena

02 Dec 2021 19.40
Maccabi Next Urban Haifa
KK Navico Akademija FMP
Sport 5, YouTube

Sofia | Universiada

06 Dec 2021
BC Levski 2014
KK Navico Akademija FMP
All times are local time