Navico Akademija FMP wins its first game in Delasport Balkan League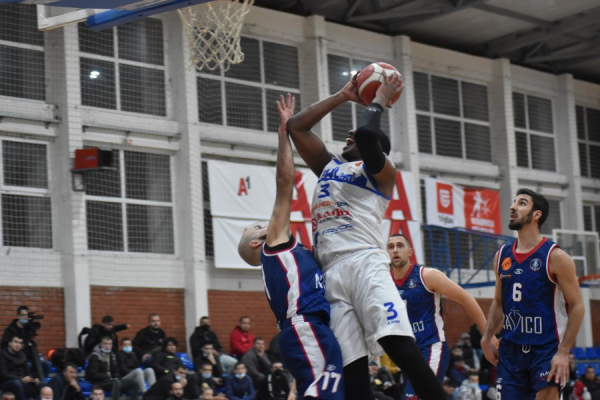 13-10-2021 | 23:30
KK Navico Akademija FMP
started its Delasport Balkan League participation with a win. The newcomers to the competition managed to defeat fellow North Macedonian side - KK
Kumanovo
2009
,
63-59
away. It was a close meeting from start to finish as both teams didn't have a good night on offense. In the end it was the visitors who showed more resilience and came away with the victory on their debut. In two weeks time Hapoel Nufar Energy Galil Elion will travel to North Macedonia to meet FMP on October 26th and then two days later Kumanovo which will be the next games for both sides.
The hosts had the better start and took 13-6 lead just before the middle of the first quarter but FMP bounced back soon. The team closed the deficit to just a point but still it was Kumanovo ahead after 10 minutes - by 4. The visitors started the second quarter with a 5-0 run to take the lead and after that moment the teams stayed close as at the break the home side was up by 2.
Not a lot changed early in the second half as the teams exchanged baskets. FMP managed to take a 4-point advantage and stayed ahead until the third quarter finished. 8 straight points at the start of the last period put the hosts back in front by 5 points. The visitors did stay close and soon answered with 5 points in a row restore their lead in the middle of the quarter. Almost three minutes followed without a single point from both sides before FMP scored a free throw to go up by 2. Kumanovo finally scored and managed to tie but those were the last points by the hosts. A free throw by Luka Stojanovski put FMP back ahead and by adding three more until the end, the visitors held on to win.
The winners were led by
Slavcho Temelkovski
who finished with 14 points and 5 rebounds.
Stefan
Krstajic
had 13 and 7 whole
Damjan
Misa
scored 10 points. The visitors won despite having 21 turnovers, 9 more by the hosts, and also had 3 offensive rebounds less.
Jonathan Holmes
finished as the top performer for the home side with 13 points and 13 rebounds.
Djukan Djukanovic
and
Kaleb Joseph
had 11 points apiece for the hosts but after 5 of 35 shooting from 3-point range and just 28.1% from the field was too much to overcome for Kumanovo.
BOXSCORE
News
Next Game
30 Nov 2021
19.00
Hapoel Nufar Energy Galil Elion
KK Navico Akademija FMP


Sports Hall
Referees:
Ognjen Jokic
Daut Mehmeti
Ioannis Agrafiotis

Schedule
Kfar Blum | Sports Hall

30 Nov 2021 19.00
Hapoel Nufar Energy Galil Elion
KK Navico Akademija FMP

Sofia | Universiada

01 Dec 2021 17.30
BC Levski 2014
BC Balkan
YouTube, BTVnovinite.bg

Nahariya | Ein Sara

01 Dec 2021 19.00
Ironi Rain Nahariya
LIVE
BC Akademik Plovdiv
Sport 5, YouTube

Rozaje | Sportski Centar

02 Dec 2021 17.00
KK Ibar Rozaje
KK TFT
YouTube

Haifa | Romema Arena

02 Dec 2021 19.40
Maccabi Next Urban Haifa
KK Navico Akademija FMP
Sport 5, YouTube

Sofia | Universiada

06 Dec 2021
BC Levski 2014
KK Navico Akademija FMP
All times are local time