Great defense in the second half leads Beroe to the win in Nahariya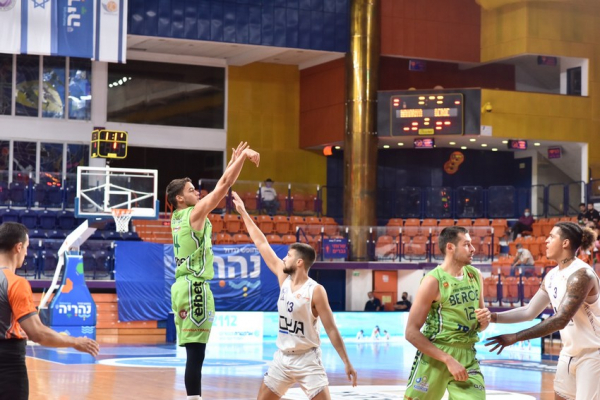 14-10-2021 | 19:57
BC Beroe
recorded an impressive win at the start of Group B of Delasport Balkan League. Visiting
Ironi Rain Nahariya
, the team from Stara Zagora played great defense in the second half to take
69-63
victory. Having been down by 8 points at the break, The Greens allowed just 21 points in the second half and at the end managed to steal the win from the home side. In its next game Ironi will host TFT on November 4th while Beroe will play against Akademik Plovdiv the upcoming Wednesday.
Beroe scored the first points of the game but the home side answered with a 10-0 run to go up by 7. They not only continued to have an advantage but it went to double digits at 18-7. At the end of the quarter the difference was 9 and early in the second Beroe showed better performance. The visitors cut the deficit to just 5 few times, then to 4 but couldn't make the next step and get even closer. Ironi however reacted once again to restore the double-digit advantage and they kept their lead around that margin to be up by 8 at the end of the first half.
Early in the third quarter the home side kept its lead but around the middle of the Beroe improved its performance and went on a 12-0 run to turn the things around and go up by 3 points. Ironi finally stopped the run and scored the next 4 points but The Greens took the lead back thanks to a triple and were up by 2 after 30 minutes. Beroe continued to play much better defense and after a Raines triple took the advantage to 7 points with 6:30 to play. Shortly after that the lead reached 9 points and then the hosts answered with a run to close the gap to just 2 in the final minute. Yanev however was fouled, he made both free throws and then as the hosts missed, Cook did the same and Beroe celebrated a great win away from home.
Obinna Eleka
was the top scorer for the visitors with 17 points as his 13 rebounds gave him a double-double.
Anton Cook
also had one with 16 and 10 while
De'Quan Abrom
scored 9 points.
The veteran
Yogev Ohayon
was the top scorer in the game with 18 points.
Dustin Thomas
had 17 and 8 rebounds while
Stephaun Branch
scored 12 points. The hosts though shot just 20% from 3-point lane (4 of 20) and missed 7 free throws which they couldn't overcome.
BOXSCORE
News
Next Game
No Games Scheduled