Boyko Milenkov: We were lucky but I can't underestimate what the players did to get the win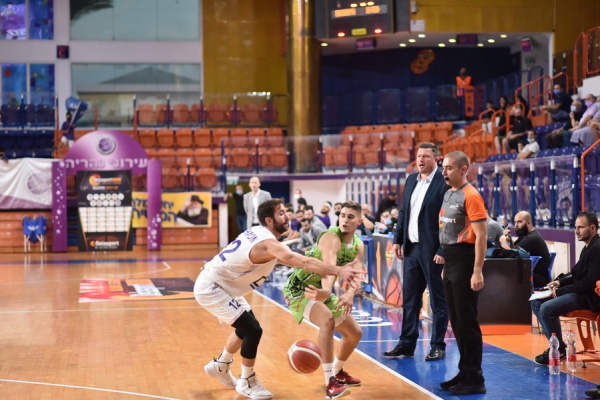 Milenkov had his first win in BIBL as a head coach
14-10-2021 | 21:32
BC Beroe defeated Ironi Nahariya away after a very good defense in the second half. The new head coach Boyko Milenkov had a great debut as a head coach in Delasport Balkan League and here is what he had to say once the match was over:
"An extremely difficult win for us given the short amount of time we had to rest, the traveling and the fact that we didn't have any information about our opponent, except the roster they have. We had no idea how they play while they had us scouted really well. Despite that our players gave their all and it was visible on the court.

It wasn't a high quality game from a basketball stand point and I think we were really lucky. Ironi Nahariya missed a lot of shots under the basket, a lot of open shots and we are aware of the fact that we had a lot of luck. However I can't underestimate what our players did, how they worked and the way they fought for the win."

Obinna Eleka had a great game for the winners. He finished with 17 points and 13 rebounds for a double-double and contributed greatly to his team's win. Here is what Eleke had to say following the game:

"It was a good team win. Everybody played their role really well and came out with a win against a good team. Hopefully we'll build on that for the next games of the season. I think we have a chance to make it far in the league. Both coaches and players did a good job tonight and hopefully we can improve on this."



News
Next Game
30 Nov 2021
19.00
Hapoel Nufar Energy Galil Elion
KK Navico Akademija FMP


Sports Hall
Referees:
Ognjen Jokic
Daut Mehmeti
Ioannis Agrafiotis

Schedule
Kfar Blum | Sports Hall

30 Nov 2021 19.00
Hapoel Nufar Energy Galil Elion
KK Navico Akademija FMP

Sofia | Universiada

01 Dec 2021 17.30
BC Levski 2014
BC Balkan
YouTube, BTVnovinite.bg

Nahariya | Ein Sara

01 Dec 2021 19.00
Ironi Rain Nahariya
LIVE
BC Akademik Plovdiv
Sport 5, YouTube

Rozaje | Sportski Centar

02 Dec 2021 17.00
KK Ibar Rozaje
KK TFT
YouTube

Haifa | Romema Arena

02 Dec 2021 19.40
Maccabi Next Urban Haifa
KK Navico Akademija FMP
Sport 5, YouTube

Sofia | Universiada

06 Dec 2021
BC Levski 2014
KK Navico Akademija FMP
All times are local time