Mitchell and Burke combine for 61 points as Sigal Prishtina has no trouble against Ibar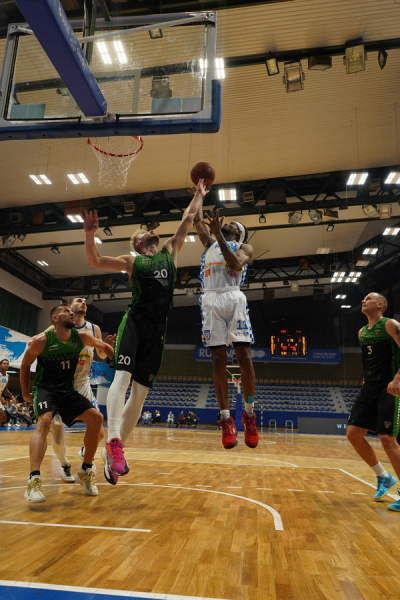 02-11-2021 | 21:54
KB Sigal Prishtina
recorded its second home win in a row in Group B of Delasport Balkan League. The Kosovo team hosted KK
Ibar
and had no trouble in winning
110-85
thanks to its great offense. The home side was in control from start to finish and thanks to its performance left no doubt for the final outcome. Sigal now stands at 2-2 record and the team's next match will be at home against TFT on December 6th. Ibar in the same time has three defeats from three games and will also host TFT in its next game which will be on December 1st.
Sigal scored the first 7 points in the game but Ibar managed to answer back and tied the score with 7-0 run. Soon after the visitors took their first and only lead of the game at 14-12 but Sigal answered with 5-0 to retake the advantage. The visitors once again tied the score but thanks to 8 points in a row the hosts took the lead for good. At the end of the first quarter they were up by 5 and with an 8-0 run to start the second the difference reached 13. Ibar however managed to stay close as the lead was between 7 and 13 points while at the break it was just 9. Everything however was decided in the third quarter when the hosts' offense went to another level. An 11-2 run shortly after the start of the third quarter made the advantage 21 points and after scoring a total of 37 in the period, the hosts were up by 23 at the end of it. In the final ten minutes the intrigue was over as all that was left was to set the final score.
Wendell
Mitchell
and
Dachon
Burke
were the two weapons of Sigal which the visitors had no answer for. The first finished with 35 points on 15 of 18 shooting while the second had 26 points on 12 of 15 as they combined for 61. Other three players scored in double figure for the home team with
Jetmir Zeqiri
adding 13.
The visitors were led by
Sedin Karavdic
and
Luka Dmitrovic
who had 20 points apiece.
BOXSCORE
News
Next Game
No Games Scheduled