TFT's offense is no match for Beroe's defense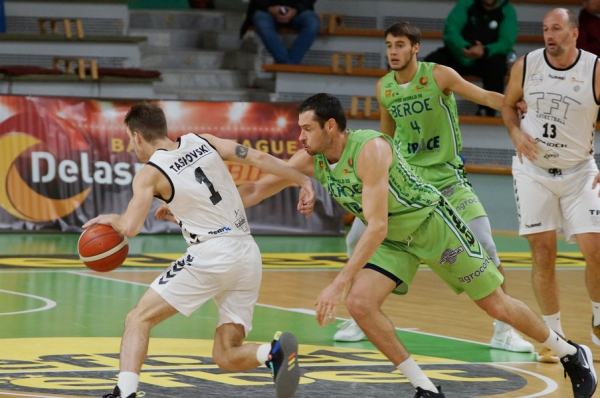 09-11-2021 | 21:25
KK
TFT
finished a successful trip to Bulgaria with a second win in as many days. The Skopje side took its third win in Group B of Delasport Balkan League after beating BC
Beroe
96-86
away from home. TFT played very good on offense which was no match for the defense of the home team. The North Macedonian side won against Akademik on Monday and then 24 hours later recorded another impressive victory. That puts the team on a 3-2 record and the next game will be on December 1st against Ibar in Rozaje. Beroe meanwhile lost its first home game of the season, now stands at 2-3 record and will host Ibar on December 7th.
Just like the game against Akademik, it was the second quarter in which TFT took control. As Beroe led by 2 after ten minutes, the visitors improved their defense and it reflected on the scoreboard. The teams weren't scoring a lot but as with 3:25 to play in the half, the TFT was up by 2. They kept leading and after finishing with a 5-0 run they managed to go up by 9 points at the break. In the third quarter TFT pretty much decided the outcome as with few small runs they increased their advantage which became 17 points after 30 minutes. The last ten were just a formality as the hosts managed to cut the deficit but without really being able to threaten their opponents.
Six players scored in double figures for the winners with
Tyron
Harris
leading the way with 16 points and 6 assists.
Travon Broadway
and
Andrej Maslinko
also did well as both had 15 points while also grabbing 8 and 7 rebounds respectively. As a team TFT scored 13 triples from 29 attempts which was good enough for 44.8% and was the key for the win.
Cadarian Raines
and
Obinna Oleka
finished with 20 points apiece for Beroe while they had 9 and 12 rebounds respectively.
Aleksandar
Yanev
was the only other in double figures with 11 points.
BOXSCORE
News
Next Game
No Games Scheduled